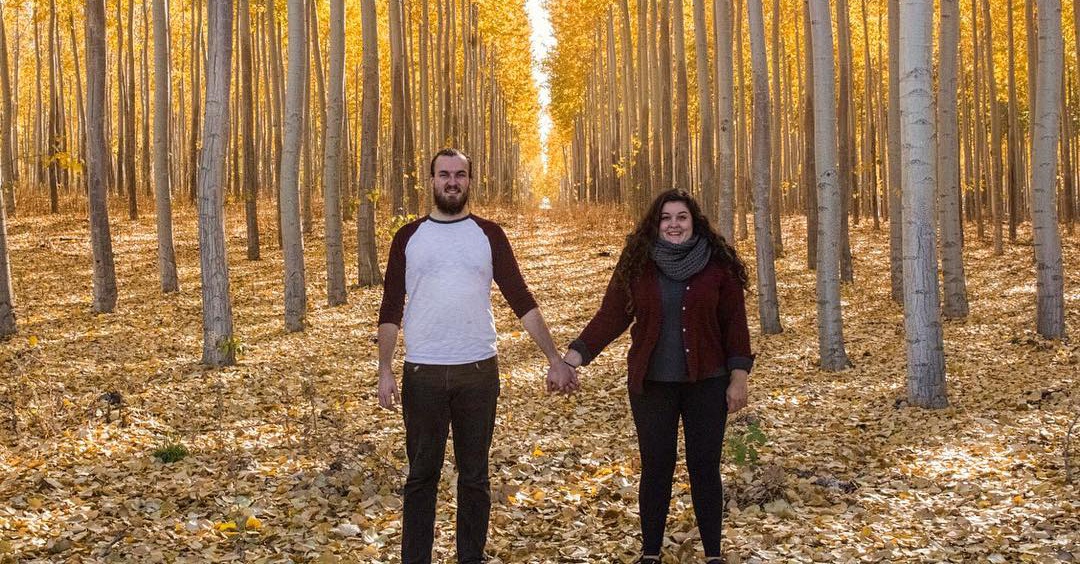 Up until the winter of 2015, Sam and Brendan Binger were living a quiet life in suburban New Jersey. Sam worked as a vet tech and a substitute teacher, and Brendan held a corporate job as a marketing director. At night, they would relax by watching Netflix in their four-bedroom house.
But something was missing for the adventure-loving 20-somethings.
"I guess you could say we were a little bored," Brendan said. Southern New Jersey offered few outdoor activities. "We are the type of people who love the outdoors, so things were getting a little stuffy."
Then, one day, Sam learned about a group of people who traveled the Pan American Highway in a Volkswagen Kombi bus. She was enchanted.
"That was our first exposure to this type of lifestyle," Brendan said. "Sam immediately decided we would get a Volkswagen Kombi and travel the country with our cats and dogs."
The couple spent the next year researching the RV lifestyle. Instead of a Volkswagen bus, they selected a 2007 Fleetwood Bounder 35E motorhome, which they named Phileas after the explorer, Dr. Phileas Fogg, from Jules Verne's Around the World in 80 Days. They spent several months renovating the interior to create a space with the perfect homey feeling.
"We knew we would be spending a lot of time in the RV, so we put a lot of time into designing something that would be tranquil and comfortable," Brendan said.
By December of 2016, they were ready to hit the road.
"Any type of landscape becomes your front yard"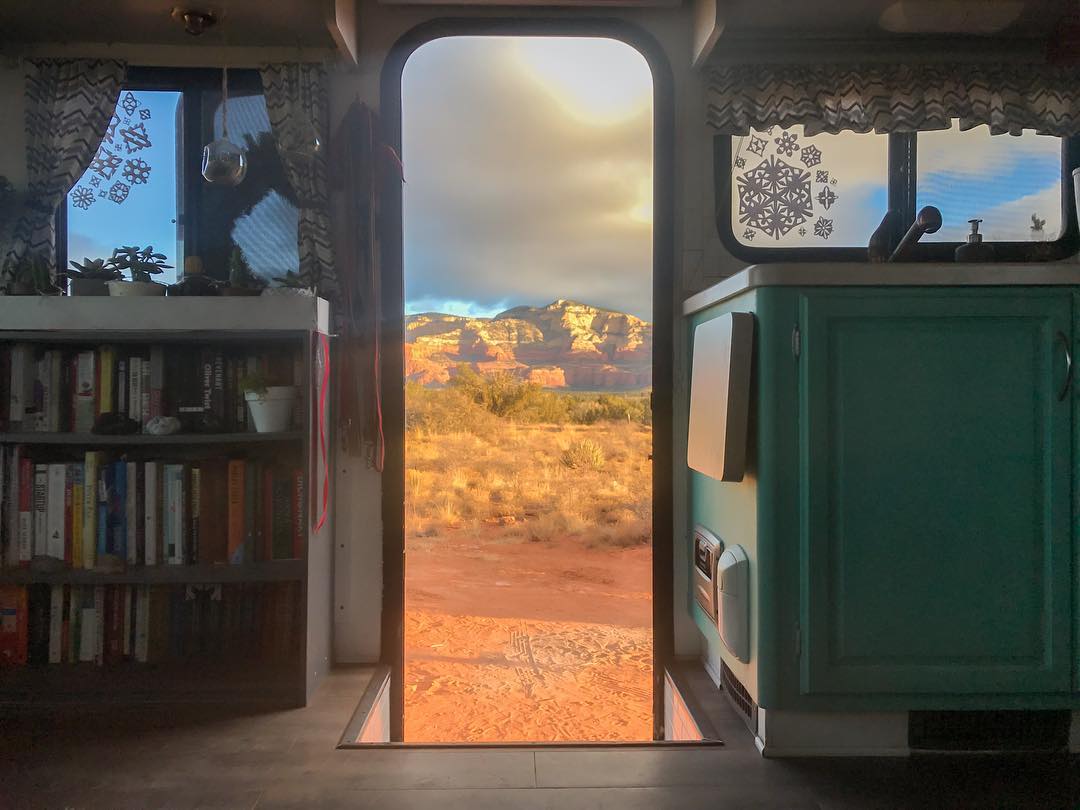 The Bingers quickly headed across the country, up the Pacific coast and all over the West. They have not stopped since.
When they make camp, they usually choose to boondock on public land. They find spots using the app, Campendium, which features campsite reviews, road conditions, cell reception strength and more. They are able to generate all the power they need with solar panels and a back-up generator for rainy days.
They love boondocking because of the solitude it provides.
"We much prefer being entirely alone, and the views are unbelievable," Brendan said. "We have a saying about our rig: we ended up with a mountain house, a beach house, a house in the desert, you name it. Any type of landscape becomes your front yard."
"When you are boondocking, you feel more in touch with nature," Sam said. "You can walk right out your door and go for a hike."
"Then, of course, there's the price," Brendan added. "You can't beat free!"
Keyboards by day, trailheads by night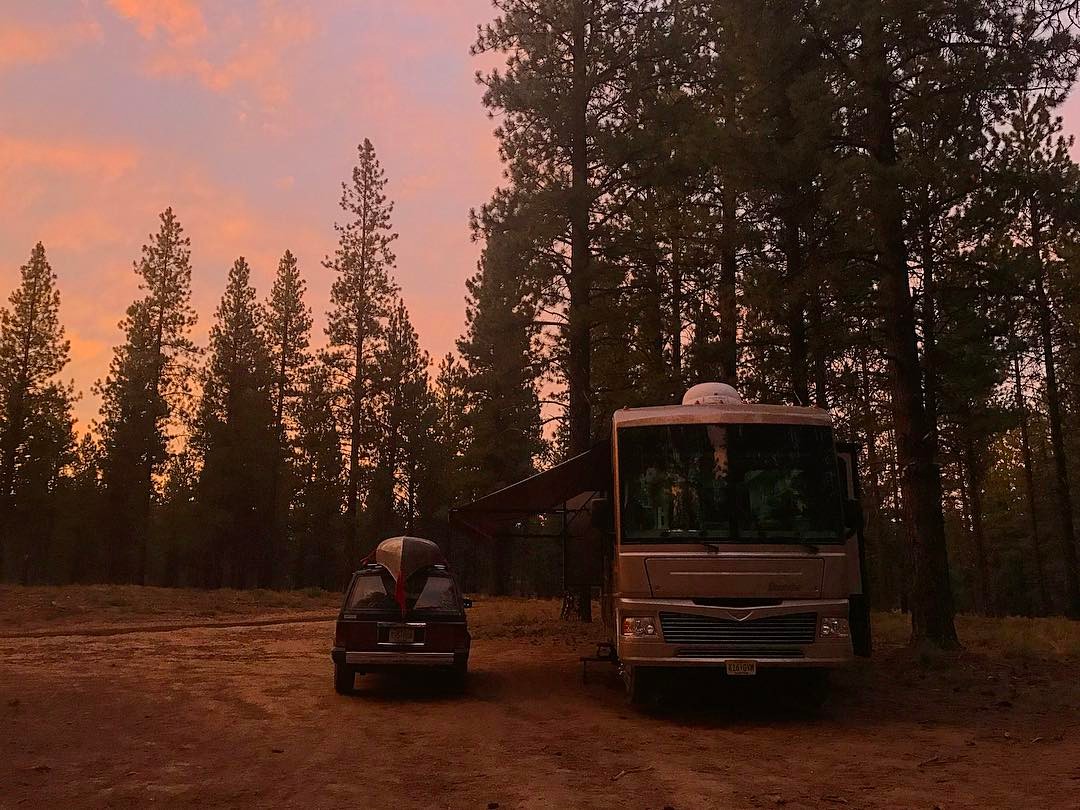 In the year plus they have been fulltime RVing, Sam and Brendan have developed an enviable work-life balance.
Brendan runs a website design agency, while Sam sells custom coffee mugs on Etsy and manages the Life Among Pines blog and brand. Depending on the season, they will work 8 to 10 hours a day, and then spend the evening exploring their surroundings. However, when they take day trips or visit National Parks, they have the freedom to go adventuring all day long and work at night, or not at all.
They recently spent a month touring all five National Parks in Utah, where they hiked, biked, and rode 4x4s throughout the state's breathtaking mountains and deserts.
"Our favorite place was Moab," Sam said. "We were there for nine days, but we probably could have stayed for a month."
Along with providing the opportunity to explore the country, the Bingers have discovered their new lifestyle is great at encouraging personal growth.
"We have found that the more open and receptive we are to where the day will take us, the more fun and memorable experiences we will end up having," Brendan said. "We are both pretty introverted people, and we definitely have our comfort zones. But, any time we have specifically tried to get out of our comfort zones, we have amazing experiences we otherwise would have missed."
Follow the Bingers on Instagram @lifeamongpines
"We try to be pretty transparent and cover the good, the bad and the ugly. We also like to be on top of engaging and responding to questions. If anyone has specific questions about RVing or our journey, send us a direct message or an email, and we will give you our best answer." -Brendan
Website: https://www.lifeamongpines.com/
Facebook: https://www.facebook.com/LifeAmongPines/
Twitter: https://twitter.com/lifeamongpines
Are you inspired to explore the RV lifestyle? Download our free ebook, "Why RV?", to learn more!
All photographs courtesy and copyright of Life Among Pines.