RVing can look different for everybody. Some campers prefer a relaxing getaway doing activities like fishing, hiking or unwinding, other campers enjoy adventurous hobbies such as using ATVs, jet skis and more. Toy hauler RVs are a great option for any type of RVer because the extra storage space can be utilized in ways that are compatible for everyone.
>>Ready to start shopping for your Grand Design Toy Hauler? Click here.
What is a Toy Hauler?
A Toy Hauler is an RV with a designated garage space. This space has a ramp to easily maneuver larger items in and out of the camper. The garage is a versatile space that can be used as storage while traveling and extra living space while parked at a campsite. Depending on the model and optional features that are included, the garage space can be used as additional living space, sleeping space, an office and more.
Toy haulers offer so many variations that there is a perfect model for every type of camper.
Who is Grand Design?
Grand Design RV is a towable recreational vehicle manufacturer, building travel trailers, fifth wheels and toy haulers. It was founded in 2012 by Don Clark and brothers Ron Fenech and Bill Fenech and was purchased by Winnebago Industries in 2016. They strive to maintain long-term and personal relationships with all customers, employees and dealers.
Every Grand Design unit is put through a 250+ point inspection before it is shipped out to dealers to ensure they are providing quality units to their customers. Want to learn more about their story? Read here.
Grand Design Toy Haulers
Momentum
MSRP starts at $89,900
The Momentum is a spacious fifth wheel toy hauler that comes a several floor plan options. It comes standard with an MORryde CRE3000 suspension system and MORryde rubber pin box. The suspension system creates smoother towing and improved towability while the rubber pin box has a rubber shear spring to help deal with road shock.
The 376THS model is 41'1" in length with a gross vehicle weight rating of 20,000 pounds. This floor plan has a middle entry point with a front living room, middle kitchen and private bedroom in the back. The bedroom has a queen bed that lifts to extend the garage height to 77 inches. There is a below floor garage and ramp door.
The large living room has two tri-fold sofas and theatre seating and a large entertainment center with a telescoping tv and fireplace. The kitchen offers lots of storage, free standing dinette and an island with bar stool seating.
>>Ready to shop for a Momentum? Click here.
Momentum G-Class Fifth Wheel
MSRP Starts at $98,279
The Momentum G-Class fifth wheel toy hauler has a lot of great amenities. It is built for maximum insulation with the thermal roof design, full laminated walls, triple insulated floor, insulated baggage doors, vented attic and an insulated gooseneck.
The 320G floor plan comes with an 11-foot garage space and one and a half bathrooms. It is 36'3" in length total with a gross vehicle weight rating of 16,800 pounds. There are ISB charging outlets throughout the RV allowing easy and convenient charging stations for electronics.
The garage space has an overhead bed and Happi-Jac rollover sofas. These sofas easily slide up to maximize space when it's not in use. There is LED TV prep so it can be used as entertaining space if desired.
>>Find your dream Momentum G-Class fifth wheel here.
Momentum G-Class Travel Trailer
MSRP starts at $59,353
The Momentum G-Class travel trailer toy hauler is a budget-friendly toy hauler option. It is a smaller toy hauler for campers who don't need as much space and like to switch between garage space or living space.
The 21G is a compact toy hauler with lots to offer. It is 26'11" in length with a gross vehicle weight rating of 11,000 pounds. The private bedroom has a queen bed, overhead cabinets and hanging closest space. There is a full bathroom with a large walk-in shower.
The living space has a kitchenette with a sink, micro, oven and refrigerator. There is a mini entertainment center with a TV and two euro chairs. If the garage space is needed, simply maneuver the chairs, sofa and table to create a large 14-foot garage.
>>Shop the Momentum G-Class travel trailer here.
Momentum M-Class
MSRP Starts at $116,784
The Momentum M-Class is a luxurious fifth wheel toy hauler with lots of room to relax. The interior has color changing LED accent lighting to set the mood for every occasion. There is also a large four seat sofa with headrest and removable swivel tables. The sofa also includes heat massage and LED lighting package as well.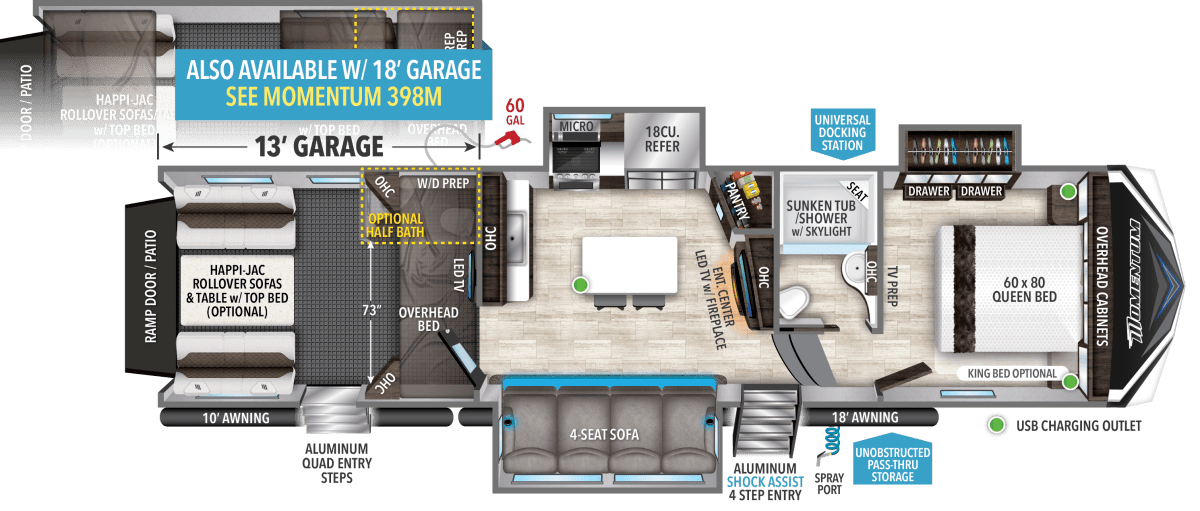 The 349M floor plan is 38'11" in length and has a gross vehicle weight rating of 17,000 pounds. There are two separate side entrances to the camper, one in the middle and one in the back near the garage. In the front of the RV there is a bathroom and private bedroom with lots of storage with the dresser drawers, hanging closet space, nightstands and overhead cabinets.
The middle offers the common area with a kitchen island, pantry, entertainment center and sofa. The back has the 13-foot garage with overhead bed and optional half bathroom.
>>Look at available Momentum M-Class units here.
Toy haulers are popular RVs because of the versatile interior space and the wide range of features and amenities that are included. The dedicated garage space is perfect for campers who travel with a lot of stuff and need the extra space.
Additional Resources:
Interested in a fifth wheel camper? Check these Grand Design fifth wheel RVS here.
Learn more about Grand Design RVs and the units they build here.