This week we are featuring a top-selling brand to aid you in your research process to help you find the perfect RV! Today we bring you...

Get to Know Keystone RV
Keystone RV is the #1 manufacturer of recreational vehicles in North America. Keystone's Rvs are available in all types and sizes of towables. From ultra light weight travel trailers that can be towed by the new fuel efficient cross over vehicles and smaller pickup trucks, to luxurious fifth wheels, toy haulers, and destination models too.
Keystone is the largest manufacturer of towable Rvs in the world, and their shear volume is what allows them to offer you more high quality features for your money than any other brand on the market today. When it comes to giving you more for your RV camping dollar, no other brand compares to Keystone.
They have manufacturing facilities located in both Indiana and Oregon and they have dealers in nearly 1000 locations throughout the U.S. and Canada. With this many dealerships selling their products, you are never too far from a local Keystone dealer yourself.
Keystone's many RV brands are the most recognizable names on the highway. Consider these: Montana, Cougar, Outback, Springdale, Summerland, Raptor, Residence, Retreat, Hornet, Hideout, Sprinter, Laredo, Mountaineer, Big Sky, High Country, Fuzion, X-Lite, Bullet, Premier, Alpine and Avalanche. All offer you the value, convenience, floor plans, features and security of Keystone RV Company.
Get To Know Coachmen RV Brands Carried At Campers Inn:
Keystone Fifth Wheels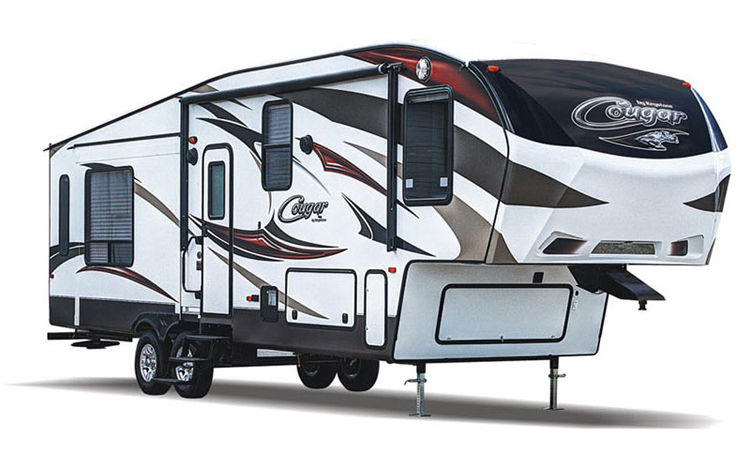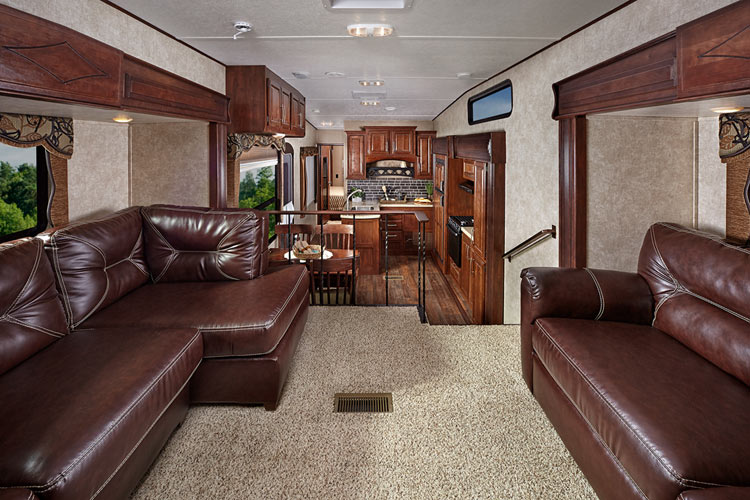 Cougar
"Keystone Cougar Fifth Wheels - a leader in innovative 5th wheel design and the #1 selling fifth wheel in America for the second year in a row! Discover the benefits of this best-selling fifth wheel recreational vehicle. From "den-style" floor plans to convenient features like their patent-pending HitchVision system for backing up and aligning your truck, Cougar Fifth Wheels are all about surpassing expectations. That is why they continue to be one of the most popular 5th wheel RVs in North America. The ever-popular Cougar fifth wheels and toy haulers by Keystone have been #1 in their class for the last nine years and running. For 2014, Cougar is still providing its customers more innovative quality built floorplans all at a popular price. You'll find Cougar where luxury and lightweight meet carrying all the features that you and your family will love. From spacious interiors, to luxury baths, to bunkhouses that can't be beat - you definitely get more for your money with a Cougar. With unique models like the Cougar Den, choice of bunkhouse models, and toy hauler garage models, there is bound to be a Cougar that is perfect for you and your family."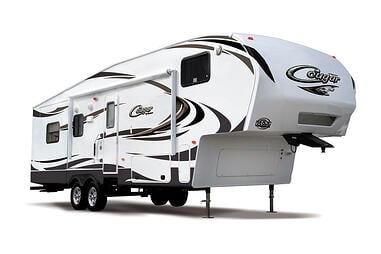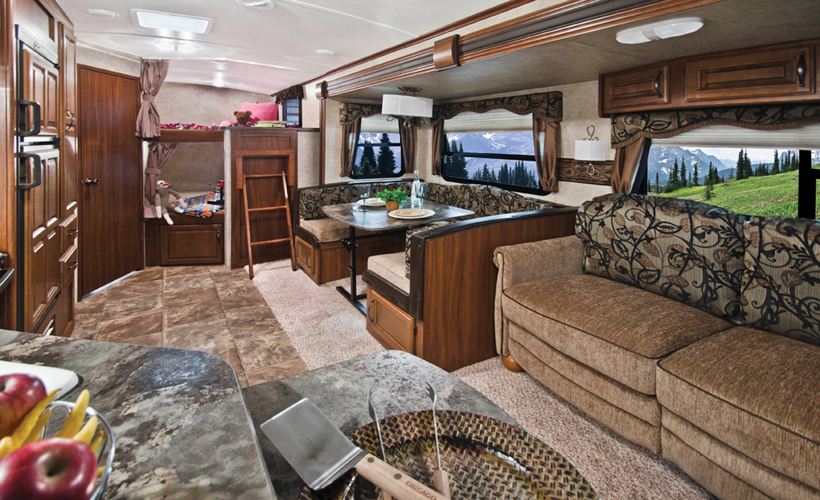 Cougar Half-Ton
"The 2014 Cougar 1/2 Ton Series travel trailers and fifth wheels have set new standards for lightweight trailers. Designed with your family needs in mind and you won't have to sacrifice a thing! The 1/2 Ton Series has maximum storage capacity and many features that are usually reserved for units costing thousands more like: quick recovery water heaters, porcelain foot flush toilets, enclosed and heated underbelly, air mattress sofa and large tank capacities to name a few. You'll love the variety of travel trailer and fifth wheel models available to meet all your family needs. Unlike most lightweight travel trailers the Cougar 1/2 Ton Series have full depth 38" slideouts, they offer an optional BBQ grill to make campsite cooking quick and easy, and the exclusive pillow-top mattress is built with a residential look and feel with double quilting for a great nights rest. There is also a u-shaped dinette standard in most 1/2 Ton models for spacious dining, and select grade Cherry raised panel cabinets throughout."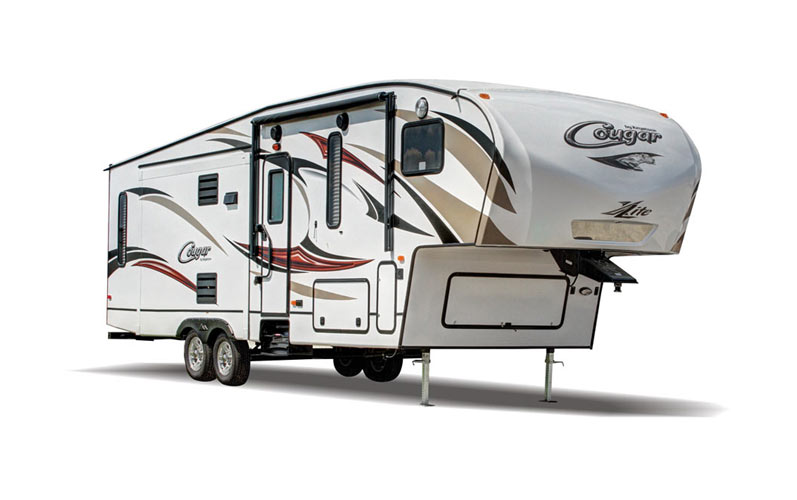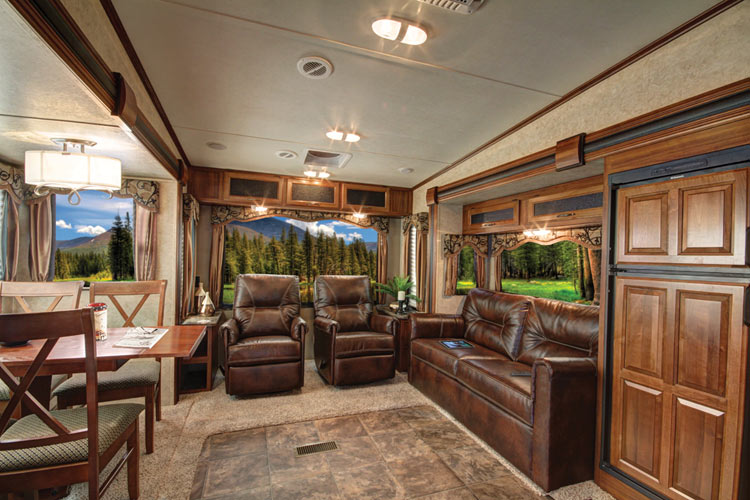 "The 2014 Cougar X-Lite travel trailers and fifth wheels offer you elegance and tow-ability with at-home conveniences while you are enjoying life on the road. With dazzling features like; a full size slide out (there is one in every model), a beautiful and functional master suite, bunk models that can sleep up to 9 people and a kitchen that you can actually cook in! Now that's just plain good taste! Choose from a large variety of models. There is even one V-Series models that gives you even more space by utilizing the nose area kitchen space. We're sure to have one that is just right for your family that will allow you to live life like you're used to, even on vacation. The Polar Package provides a fully enclosed underbelly with heated and enclosed dump valves that will extend your camping season."

Keystone Travel Trailers
The Passport Series
With Passport, Keystone makes it easy to stamp the mind with memories, help the kids fill their pockets with precious knick-knacks, create a one-of-a-kind album of snap shots. Because Passport is lighter and fully equipped, it is easier to grab and go, giving you plenty of opportunity to hit the road on a moment's notice. Whether you are looking for a small, couples coach that can be towed with a crossover vehicle, or a larger family bunk house model that doesn't require a big truck, Passport has more choices for you. Go ahead and fill the blank pages and enjoy the story as it unfolds.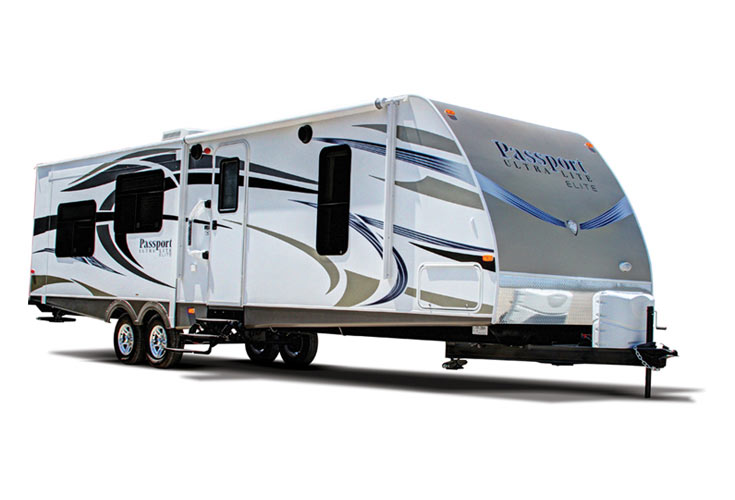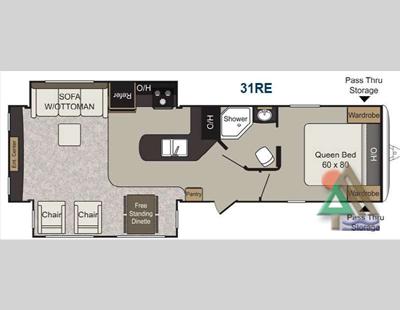 Passport Elite
Go Anywhere. With customer demand for lightweight, fuel-efficient travel trailers at an all-time high, the Keystone Passport Ultra-Lite Elite finds favor with families who want to maximize fuel efficiency but maintain all of the conveniences of a well appointed, feature-packed RV. You'll never want to travel without your Passport.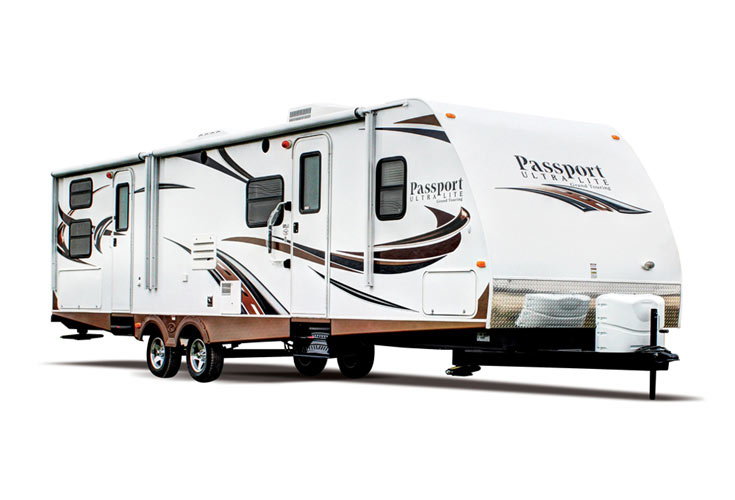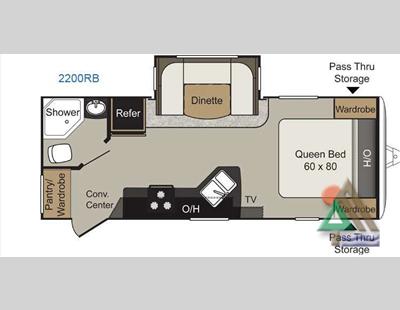 Passport Grand Touring
The whole family will enjoy the features of the Keystone Passport Grand Touring. Weighing in under 5000 lbs the Passport 2650BH is an excellent choice as a half ton towable and can also be towed by some mid size SUV's and crossovers. The Passport Grand Touring 2650BH has a large private master bedroom with spacious bunks at the rear along with ample bathroom area. The living area is expanded by the super slide and has a well equipped kitchen. Aluminum frame and load equalization axles make a pleasure to tow.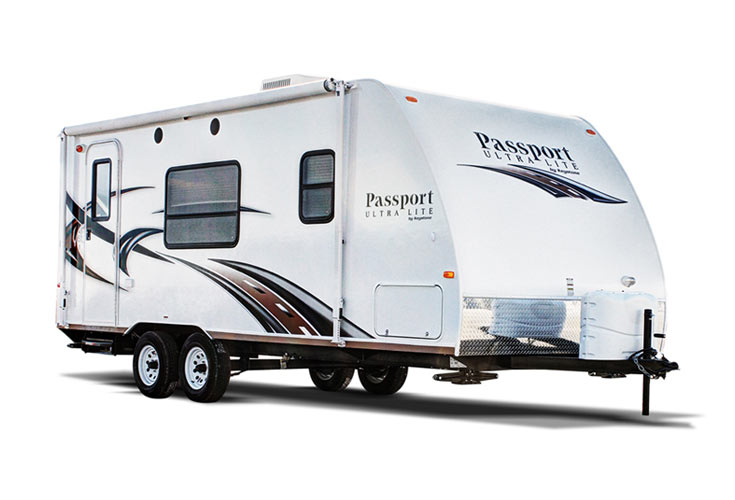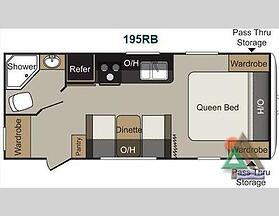 Passport Express
The Super Lite, Compact, Fuel-Efficient Keystone Passport Express Travel Trailer has all the Essentials and More. The 199ML Passport Express has been specifically designed to Maximize your Livable Interior Room and Storage Space while keeping the weight of the Express at a Minimum. With the Passport Express Super Lite travel trailers and expandables you can have it all and go anywhere you want! In a time when customers are demanding lightweight, fuel-efficient travel trailers to tow behind their mid-size and cross-over vehicles, the Express Super Lite is the perfect fit. Designed by seasoned campers to maximize the interior living space yet keeping the trailer as light and fuel efficient as possible. Choose one of six travel trailers or one of three expandable models each featuring plenty of storage and conveniences for the whole family. Just because the Express Super Lite is practically weightless doesn't mean its not packed with comfort! These trailers are well-appointed for today's smart camping family.So, if you want a lightweight fuel efficient way to travel, get a Passport Express travel trailer from Keystone. You'll never want to leave home without your Passport again!
Keystone Destination Trailers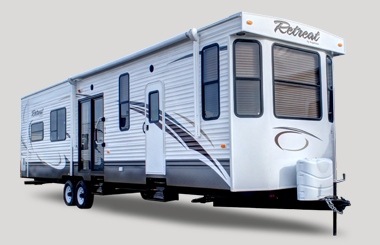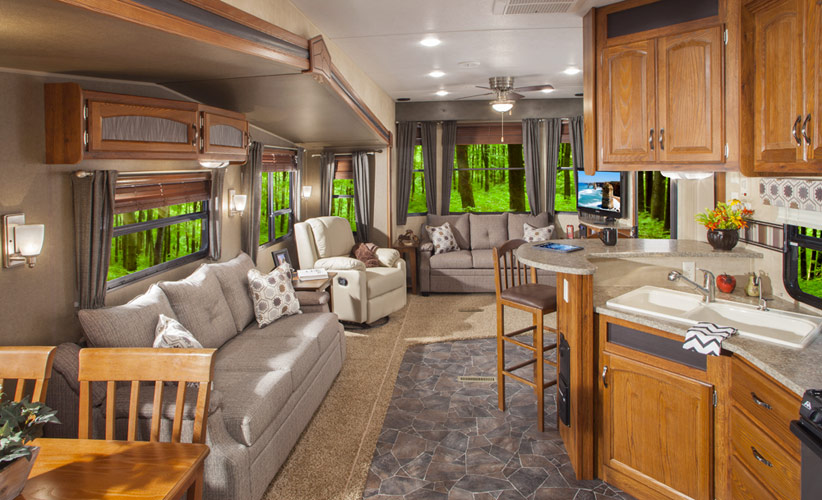 Retreat
Plenty of interior living space
Stylish and contemporary decor
Perfect for a full time RVer
A destination trailer like the Keystone Retreat offers more living space and more residential-style appointments than those found in a typical travel trailer. Ceilings and slide out rooms are typically taller creating a more open, spacious feel; furnishings are heavier-weight and residential in construction and appearance; and appliances are like those you might find in your home.
Keystone's Retreat destination travel trailer provides you with a luxury you'll love, and a value you can live with. Imagine taking a vacation that requires less preparation, packing, and planning. A vacation that doesn't require calling ahead for reservations only to find out that the hotel is already booked. Now imagine yourself traveling with all the comforts of home to your favorite destination.

The Retreat provides you with features that you would normally find on high-end RVs yet you won't feel it in your pocketbook either. Keystone is able to bring you great at-home features that you can comfortably afford. Choose from three beautiful fabric decors to make the model you've selected feel more like home. Each model features a king bed slideout to maximize your space except 39BHTS which features a queen bed slide, a large bath to easily pamper yourself, a convenient closet washer and dryer and a eat-in bar & patio doors.
No matter which model you choose, the Keystone Retreat is your ultimate freedom vehicle. Pick your destination and Retreat into a place of rest and relaxation!
*All information, photos and research regarding Keystone RV for this post was obtained via the Keystone website and condensed. To read the entire Keystone story please visit http://www.keystonerv.com/