The great thing about RVing is that there are many options to choose from when looking for your dream RV. It is a good idea to do some digging before making your purchase to help you decide to what is truly right for you. Campers Inn is here to help you with your research process by comparing and contrasting the different types of towable RVs.
TRAVEL TRAILERS

The travel trailer is the most widely known towable that comes with a large range of options, slide outs or no slides, floor plans, sizes, and lengths to fit your towing and lifestyle needs. For instance travel trailers offer the greatest amount of sleeping space, up to ten people, making them great for families. Those with towing or weight requirements, travel trailer range in size from small 12 footers all the way to 35 ft. The lighter and smaller models can easily be towed with a midsize family car, a truck is not necessarily needed. A little cheaper than a fifth wheel, they offer all the comforts of a home with a smaller price tag and are great for those seeking an economical way to enjoy the RV lifestyle with their family.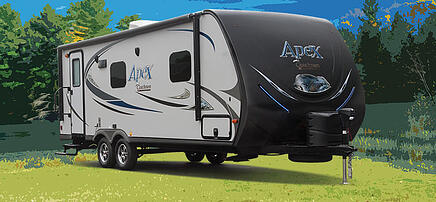 FIFTH WHEELS

The largest of the RV Towables family, fifth wheels are perfect for the dedicated RV-er or those desiring more living space. Fifth wheels offer everything of that of a typical home, and some even feature appliances such as washers, dryers, and dishwashers. This RV is perfect for families or a couple and perfect for long vacations and/or full time travelers as many fifth wheels are four season RV's. Fifth wheels feature the special raised forward section that provides extra space and a bi-level floor plan. Though fifth wheels require a larger vehicle with adequate towing capabilities, they are extremely spacious and often have slideouts for additional room. Make sure to check with our dealership to determine correct weight to towing capability ratios before buying.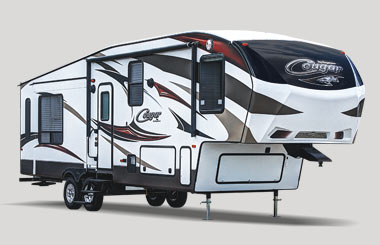 TOY HAULERS

Toy haulers are considered to be the most adventurous of the RV industry. Also known as Sport Utility RVs, or SURVs, toy haulers contain all of the conveniences of a home, but with a back garage and a ramp to store all of your toys such as bicycles, ATVs, motorcycles, dirt bikes, etc., while you travel. Some are even large enough to accommodate a race car. This type of towable is for the active family and those with a little bit of a higher budget. Living quarters are typically separated by a wall to prevent damage, object movement, and the spreading of dirt into the general living area. RV manufacturers offer Toy Haulers in both Travel Trailer and Fifth Wheel model types. With the extra toy weight and length of these RVs, it is essential to have the proper towing capacity to match to avoid major issues. Be sure to ask one of our experts about towing ratios and weight restrictions before purchasing.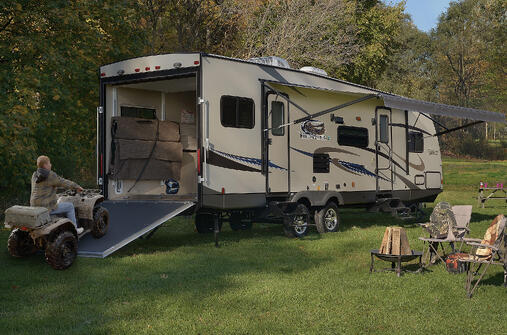 EXPANDABLE OR HYBRID RV'S

Expandables are great because they give you the best of a travel trailer and a pop up due to the fold out space that can be compacted or protracted according to your sleeping needs. These can accommodate up to 8 sleepers. They are smaller in size which makes them great for towing with general family vehicles such as minivans, SUVs, and pickup trucks. Expandables are perfect for those looking for the general RV layout without the large bulk of a fifth wheel, and those who take short term trips. Their midsize stature makes it easier to store them, and easy to towing. Expandables are the right choice for those on a tighter budget with minimal storage space.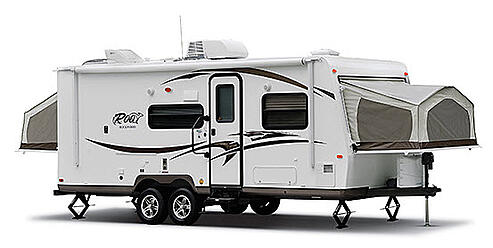 POP-UPS

Also known as folding or tent trailers, pop-ups are the most basic types of RVs available. They are very easy to store, tow, handle, and maintain. Pop-ups feature an entirely compactible living space that folds out when ready, and can be towed with any vehicle. When compacted, you are able to strap bicycles, chairs, etc. to the top while towing. These are for those who wish to have the true basics of RV living, are on a minimal budget, and those who truly enjoy nature. The tent-like atmosphere allows you to feel close to the outdoors at all times while getting you up off the ground for sleeping. Additionally, some folding models have slideouts for additional living space. These are great for short vacations and last-minute getaways.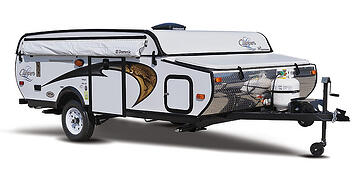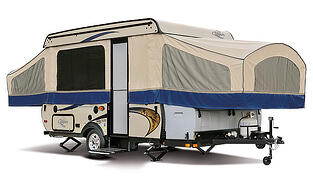 At Campers Inn, we only stock RVs from best manufacturers to ensure our customers are making their selections from the best of the best there is to offer. Below is a list of RVs on our lots according to towable type:
Contact Us for more information on towable RV types or to chat with an expert who can help you determine the best RV type for your lifestyle needs.
Towables not quite right for you after reading through the different types? Perhaps a Class C motorhome is a better fit for you. Check them out here.
View Towable RV Specials on Our Specials Page!