Bunkhouse RVs are popular models for families who love camping. Featuring spacious interiors with large living spaces, private master bedrooms and separate, private bunkhouse areas, they make camping with big family easier.
Bunkhouse RVs are the ideal RV for families with kids, but they are also an ideal floorplan for full-timers who need extra space or couples who work from the road. The biggest perk is, of course, the private bunkhouse space that can have other uses besides sleeping, such as extra storage or an office.
There is, as usual, a large selection of brands that offer several different bunkhouse floorplans. In this blog, we discuss six of the most popular fifth wheel brands.
Top 6 Fifth Wheel RVs with Bunkhouses
Keystone RV Hideout 301DBS
Coachmen Chaparral Lite 30BHS
Grand Design Reflection 31MB
Forest River Sandpiper C-Class 3330BH
Grand Design Solitude S-Class 3550BH
Jayco North Point 377RLBH

The Keystone RV Hideout is 34'2" in length with a gross vehicle weight rating of 13,940 pounds. It has a spacious interior that sleeps up to eight comfortably.
The exterior of the Hideout comes with heavy-duty, electric stabilizer jacks to ensure a level camper when setting up. It also has a solar prep space for boondock campers who are interested in camping in nature without electricity hookups.
For extra storage space, there is exterior oversized pass-through storage to hold larger items such as patio chairs or tables.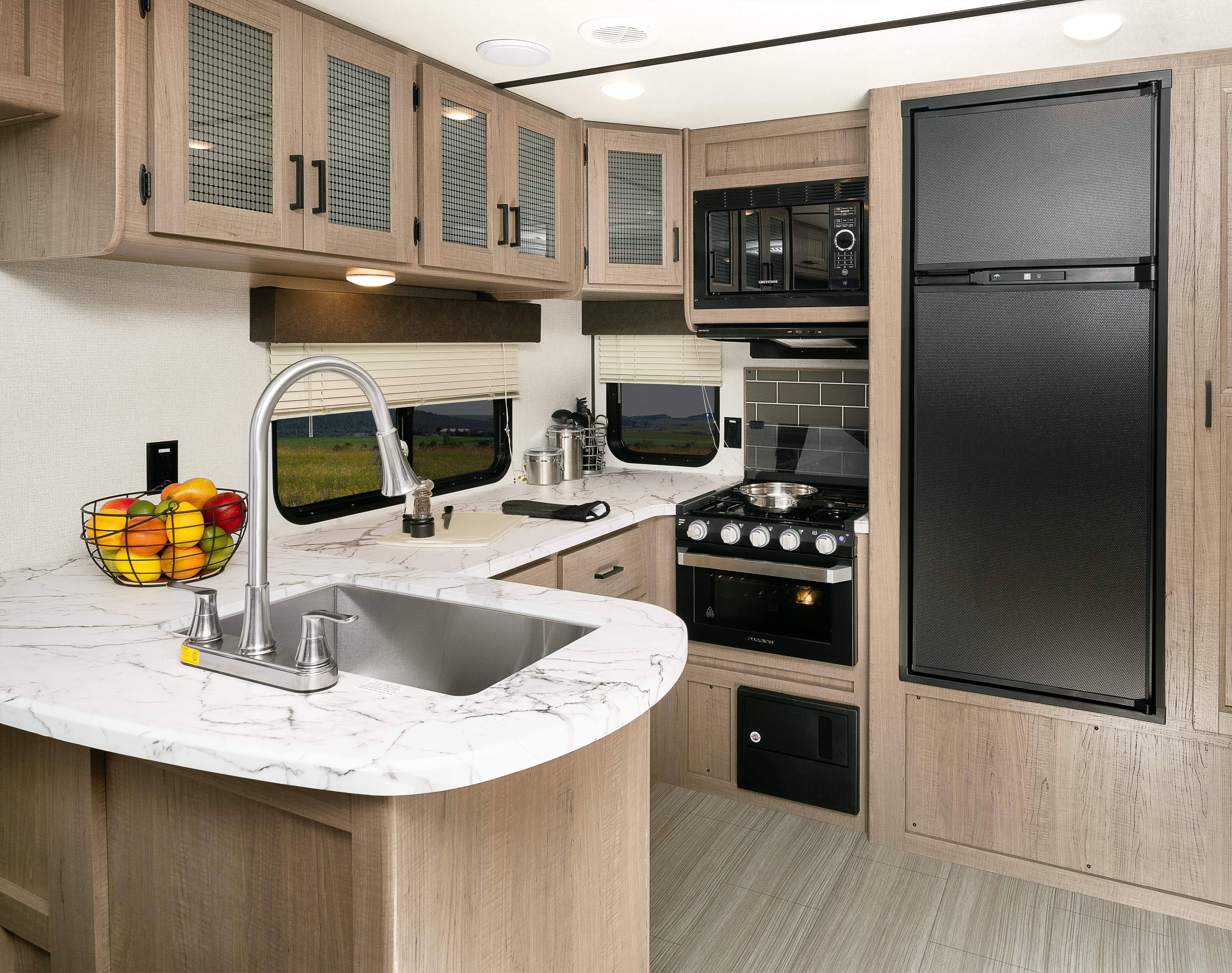 It also features an 8K BTU air conditioner, 12-volt, 55-amp converter and oversized under bed storage in the master bedroom.
This is an easy-to-tow fifth wheel that is packed with features and amenities to make every camping trip safe and fun.

The Coachmen Chaparral Lite is a large fifth wheel with interior features that makes every camping trip feel like a luxury vacation. The private bedroom has a large wardrobe space with hanging storage and oversized under-bed storage. It also has dual 110-volt outlets at the bed to easily charge electronics.
The Chaparral Lite also includes a modern entertainment center prepped for 50" to 55" TV,
a large shower with sliding glass door, 21" stainless-steel oven with residential cooktop, glass cover and a 50/50 extra deep stainless-steel kitchen sink.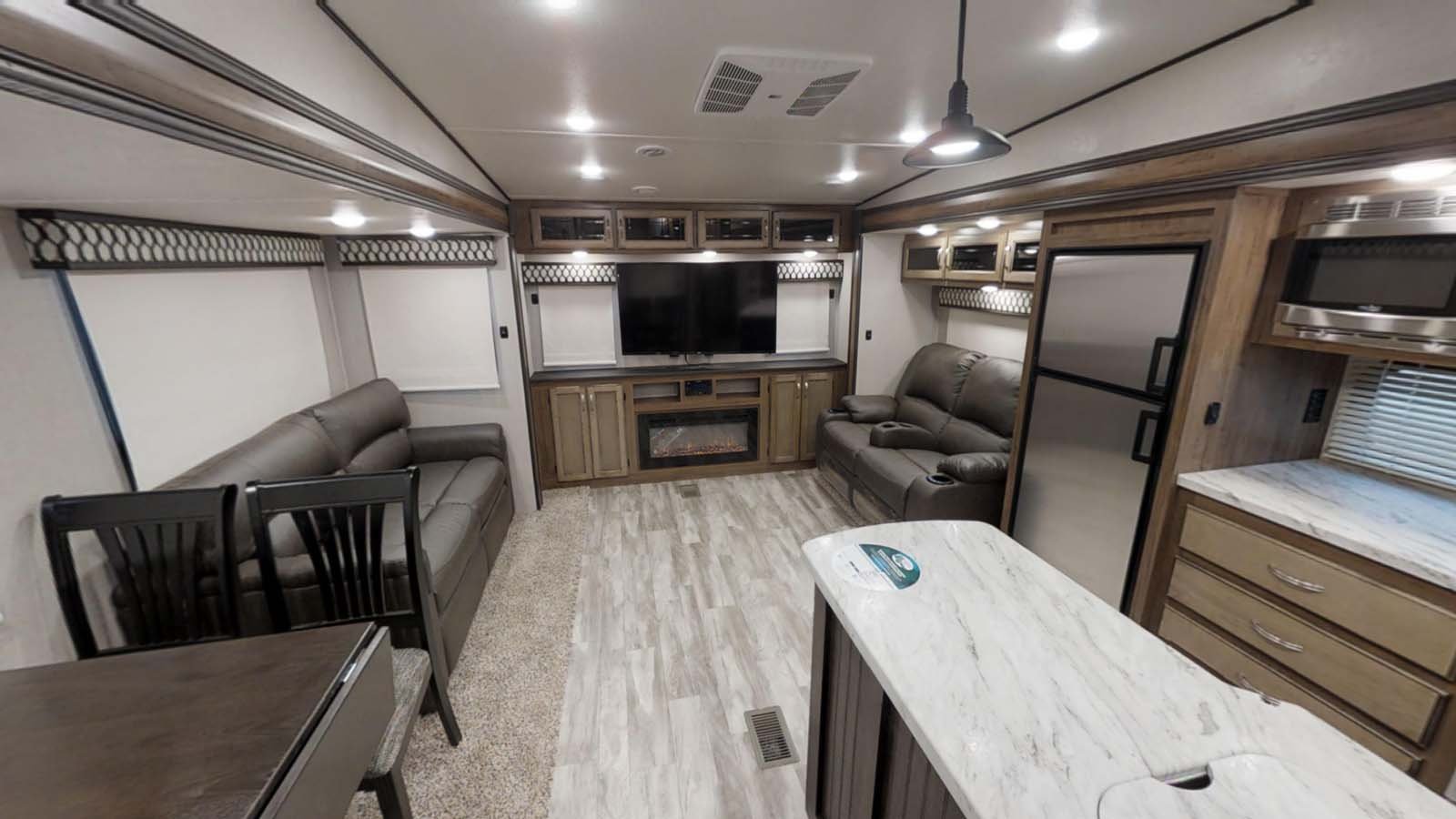 This camper is 36'5" in length and has a gross vehicle weight rating of 11,500 pounds. With the bunk beds, this unit can sleep up to seven people.
The Chaparral Lite is a great camper for RVers who want the comforts of home without having the towing capacity for a heavyweight RV.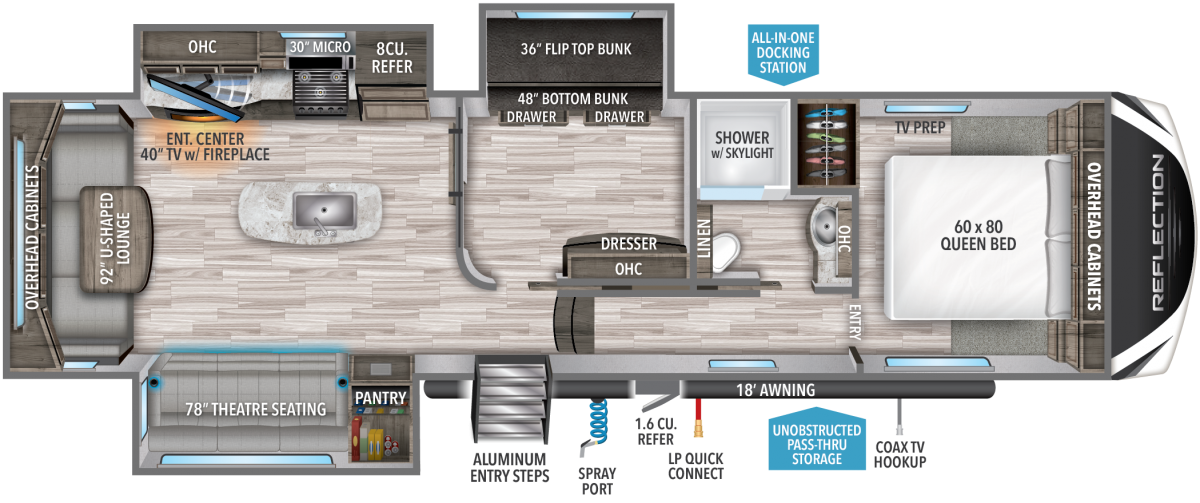 The 36'2" long Grand Design Reflection has a gross vehicle weight rating of 11,995 pounds and can sleep up to six people between the private bedroom and bunkhouse. It has a unique interior with a lot of features that come standard with the unit.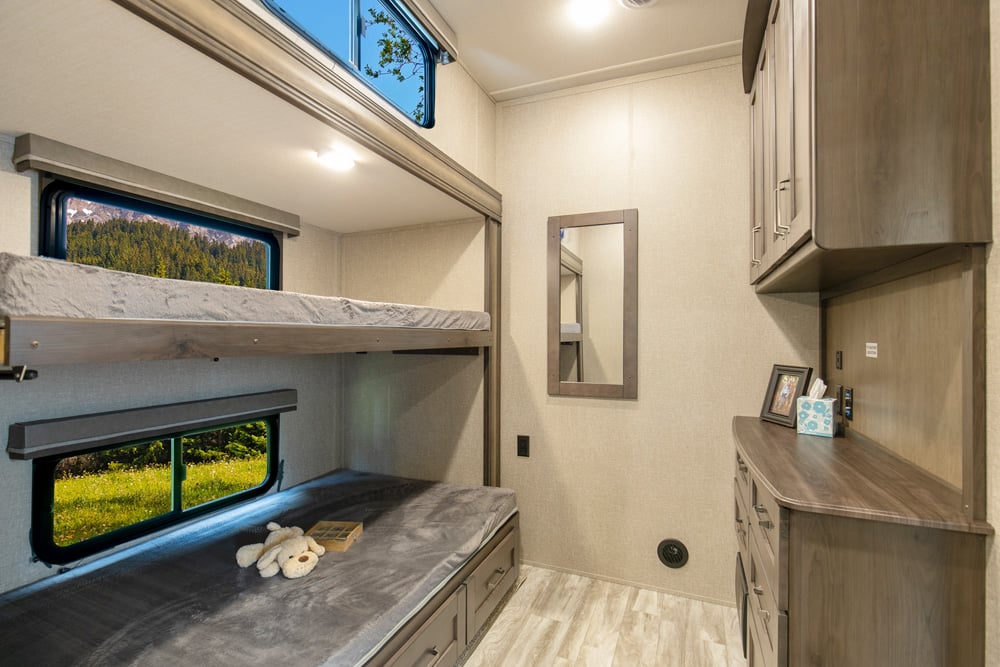 There are large panoramic slide room windows that allow lots of natural light in and gives campers the ability to see the gorgeous view from inside the RV. It also comes with one touch auto leveling system, LED lighting with motion sensors in key areas and ductless flooring to prevent dirt and dust from collecting in the ducts.
The Reflection is an easy to tow fifth wheel with luxury features at an affordable price.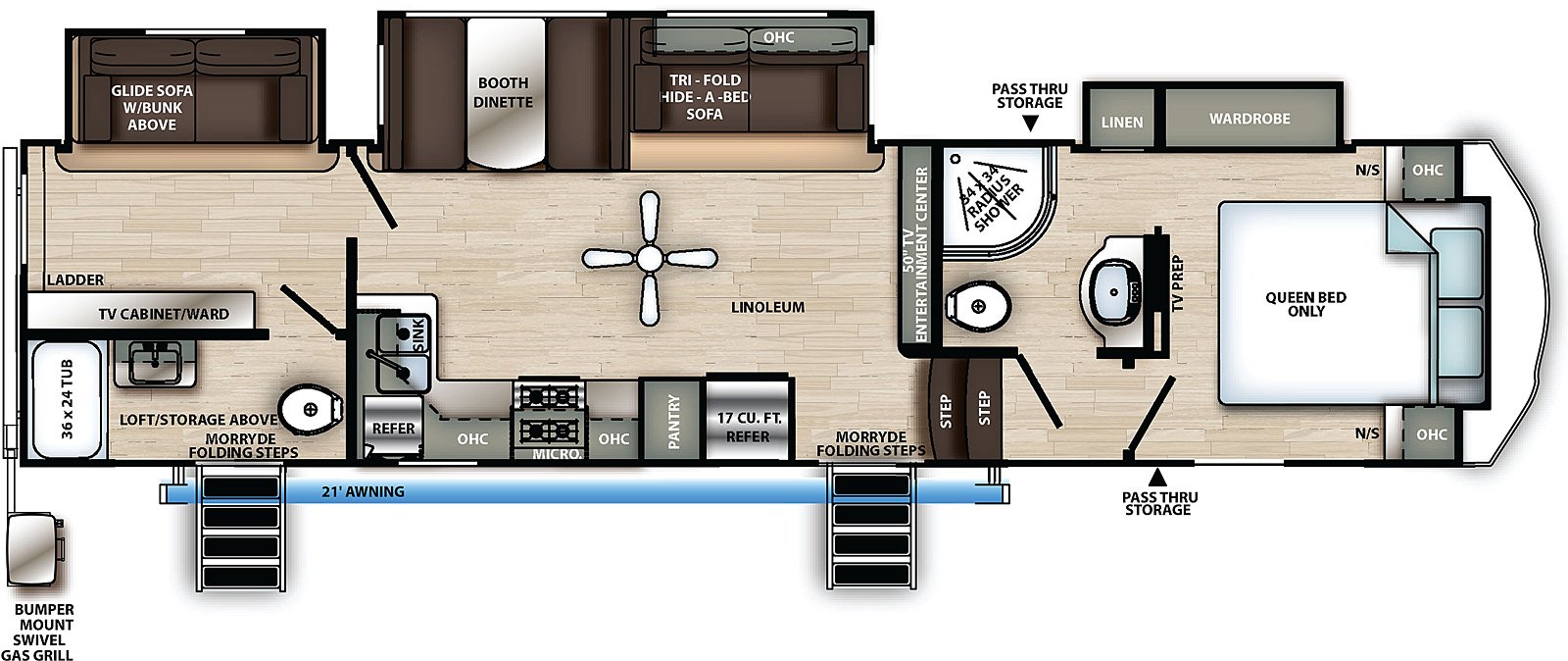 Make unforgettable memories in the Forest River Sandpiper C-Class. It has a lot of gadgets that make every camping trip simple and convenient to set up.
There is a high-performance 15k A/C and a floor ducted 35,000 BTU furnace. The digital thermostat makes it easy to control the temperature inside the RV. The Sandpiper also comes with a 65 amp converter.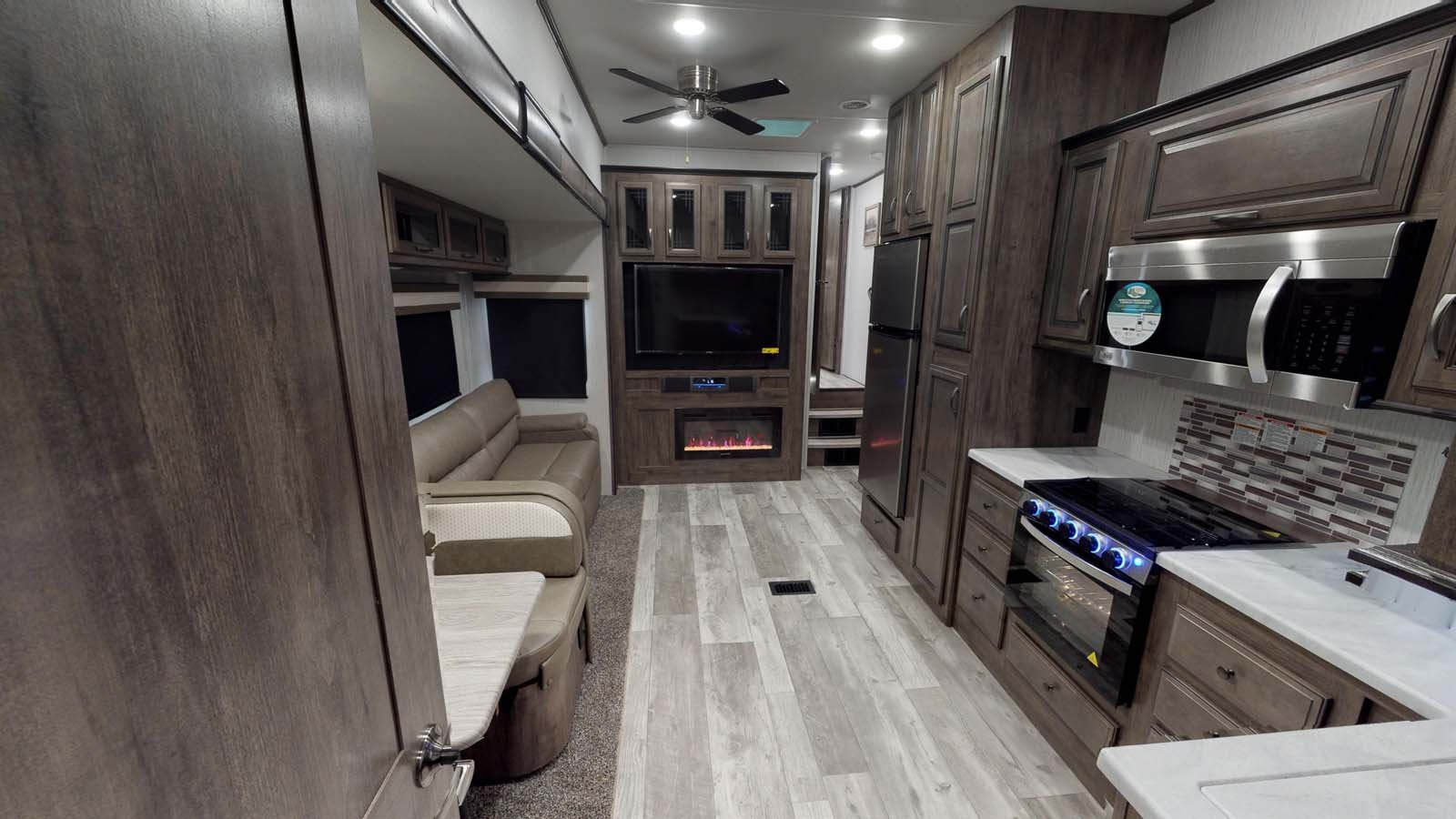 This fifth wheel is 36'11" in length with a gross vehicle weight rating of 13,769 pounds. The large interior gives the space to sleep up to eight people.
The Sandpiper C-Class has a large selection of different floorplan options so there is one that fits every RVer.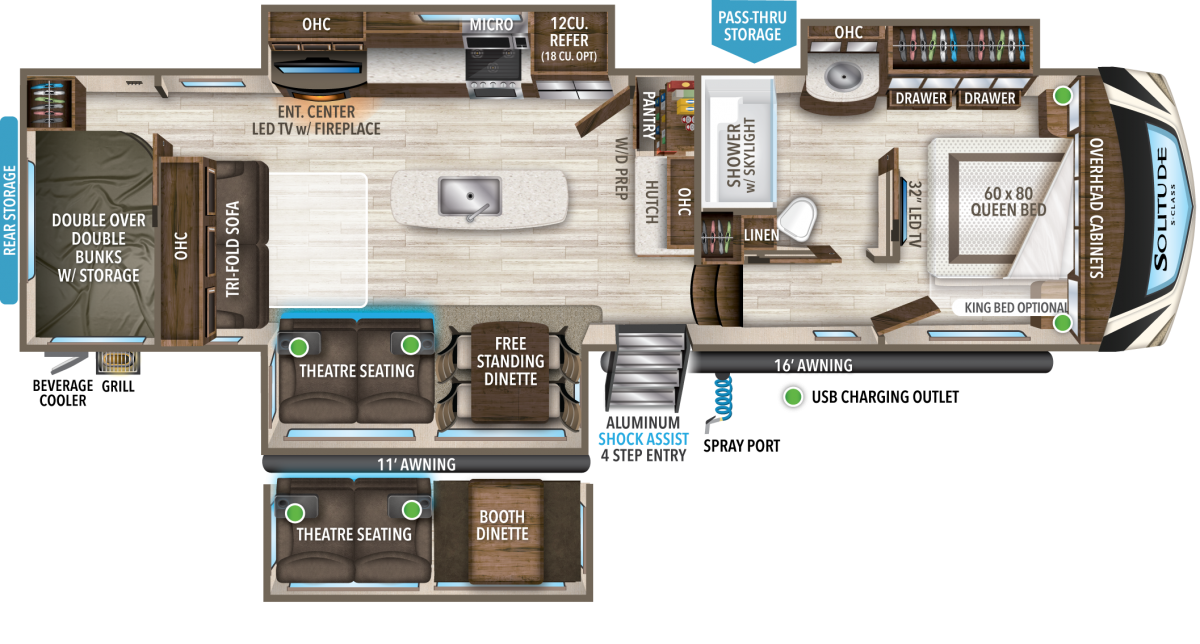 The Grand Design Solitude S-Class is truly a luxury fifth wheel that comes in at 39'9" in length and has a gross vehicle weight rating of 16,800 pounds. The spacious living space, including bunk beds, allows this unit to sleep up to eight people.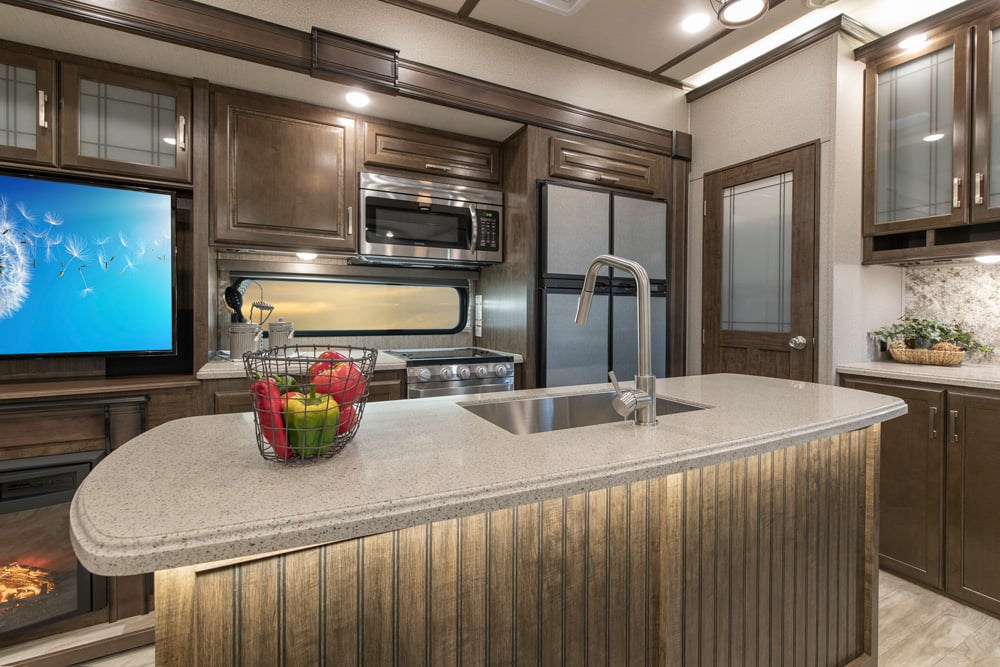 The kitchen is the heart of the home, which is why the Solitude S-Class offers luxury kitchen amenities and plenty of room to try new recipes on the road. There is a professional-grade stainless-steel cooktop with a built-in oven that is sure to please any home chef, oversized pantry and finishing touches like a tile backsplash to make the kitchen feel homey.
This luxury fifth wheels has a lot to offer travelers with its large interior and elegant touches to make it feel like a real home-away-from-home.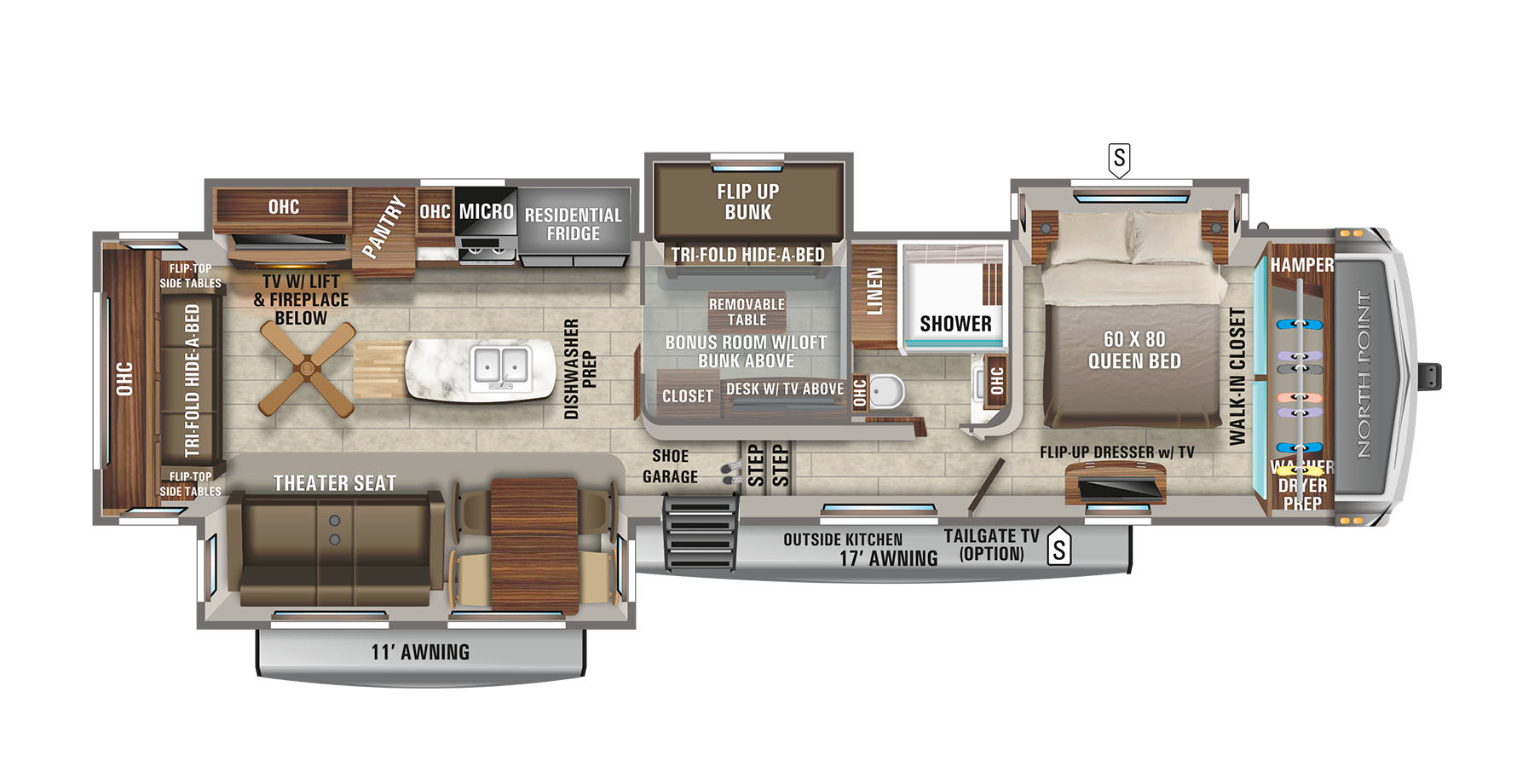 The Jayco North Point has lots of room for relaxing after a day of hiking, biking or swimming in the great outdoors. With a length of 41'11" and 16,995-pound gross vehicle weight rating, it will more than accommodate sleeping arrangements for up to eight people.
The kitchen offers convenient features like a pullout countertop extension for extra prep space and a pullout utility drawer under the sink for storage. It also comes with dishwasher prep for those who are interested in clearing dirty dishes more easily to provide more space on the countertops.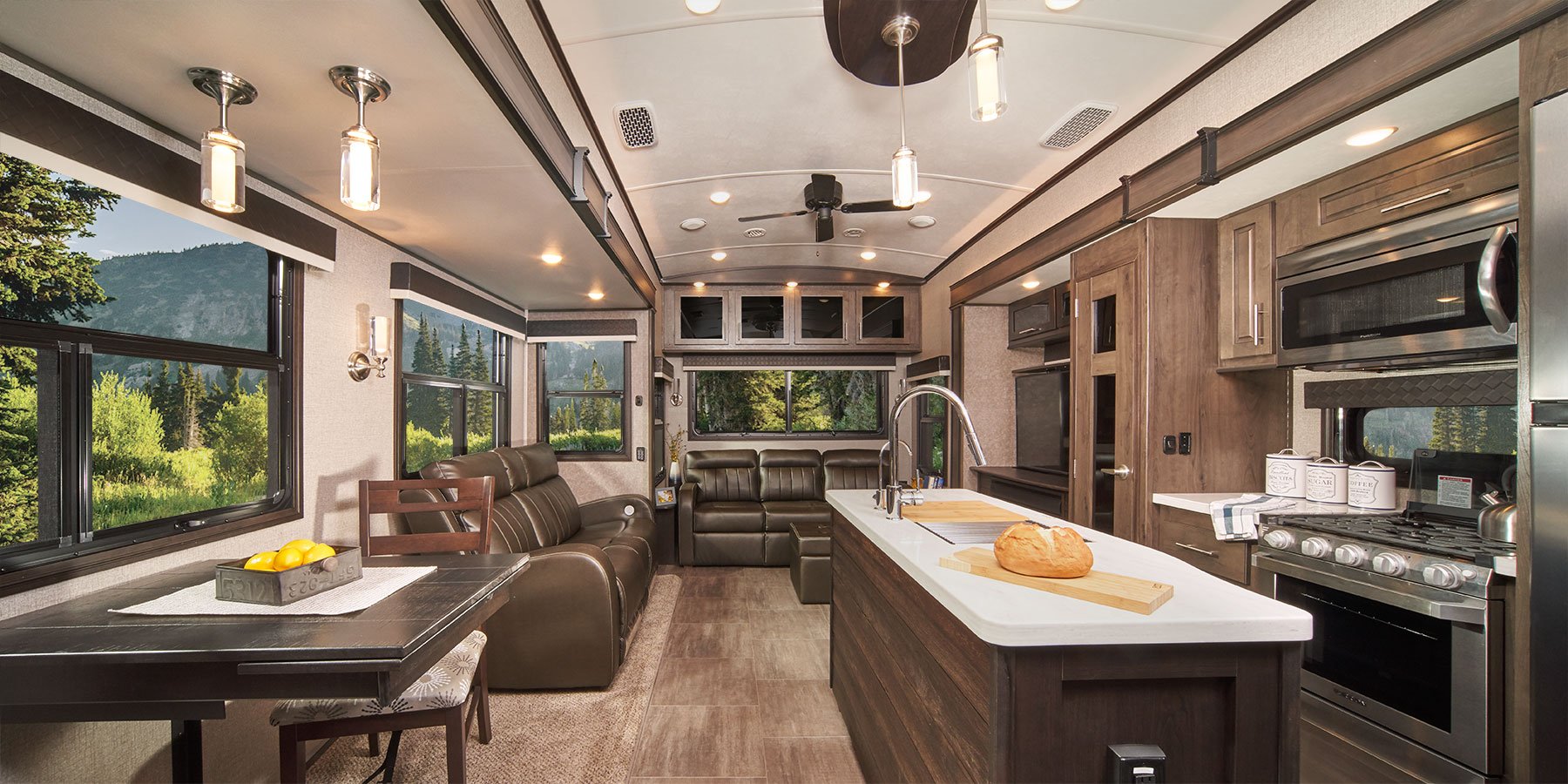 Plus, with it's fully enclosed, LED-lit docking center with selectable water connections, quick-connect outside shower, black tank flush, winterization and sanitation, independent satellite and whole coach cable hookups, hooking up at the campsite is a breeze. And it comes with Jayco's full-time RVer warranty.
Why Fifth Wheel RVs
Fifth wheels offer a smoother towing experience and more comfortable and luxurious features. These vehicles can truly make every camping trip feel like staying at a five-star resort. And if you have the towing capacity, they are a great option for those who like to spend a lot of time on the road or at the campsite.
And fifth wheel RVs that include bunkhouses are popular because of the versatile space it offers. There are many different brands, models and floorplans for fifth wheel bunkhouse RVs that have plenty of different features and styles so there is a dream RV for every family.
Additional Resources
If travel trailers are more your thing, but you still want the space of a bunkhouse, here are the Top 5 Travel Trailers with Bunkhouses.
If you are ready to start shopping, check out available models here. Check back often as inventory changes rapidly.