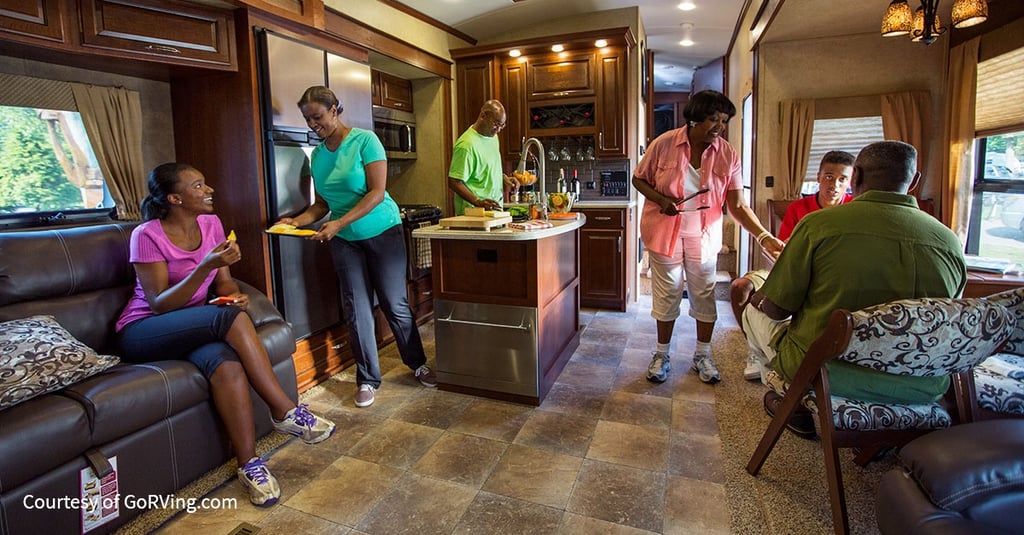 RV kitchens come in all shapes and sizes: from minimalistic sink-and-fridge-only styles to full-sized set-ups that would be the envy of any home.
When comparing your choices, you should consider how much time you think you'll spend cooking and eating in the RV. Remember to think about the future, too! Even if you won't be baking cakes your first summer out, you might like the option in the years to come.
Here are 5 questions to ask when considering your RV kitchen:
1. Do I want a dinette or free-standing tables and chairs?
| | |
| --- | --- |
| Salem Cruise Lite with a dinette-style table | Rockwood Windjammer with a free-standing table |
RV kitchen tables come in two styles: 1) u-shaped or booth-style dinette; and 2) free-standing table and chairs. A dinette is fastened to the RV's floor, so it is more stable when traveling. The free-standing table offers more flexibility in movement, but the pieces need to be secured when on the road.
2. Do I need an oven?
You have two main options for an interior cooking space: an oven and stovetop combined or just the stovetop ranges. Your choice will depend on what you are planning to cook. Keep in mind, ovens are typically smaller than an average house kitchen, and stovetops are often limited to two or three burners.
3. Do I need a full-sized fridge or a mini-fridge?
This choice depends on how much food you are planning to bring on your trips. If you will be taking long trips or enjoying extended stays, consider residential/full-sized. For weekend trips or short vacations, a mini-fridge may be just fine.
| | |
| --- | --- |
| Cruiser Embrace with an oven and full fridge | Jayco Hummingbird with stovetop and mini-fridge |
4. How much counter space will I need?
If you think you will be making large, complex meals, then it's important to make sure your RV will offer enough counter space to do all your prep work. RVs frequently come equipped with covers for sinks and stovetops, which increases the space available. Larger models, like fifth wheels, can even feature a kitchen island.
5. Will I want to cook outside?
Grand Design Solitude with outdoor kitchen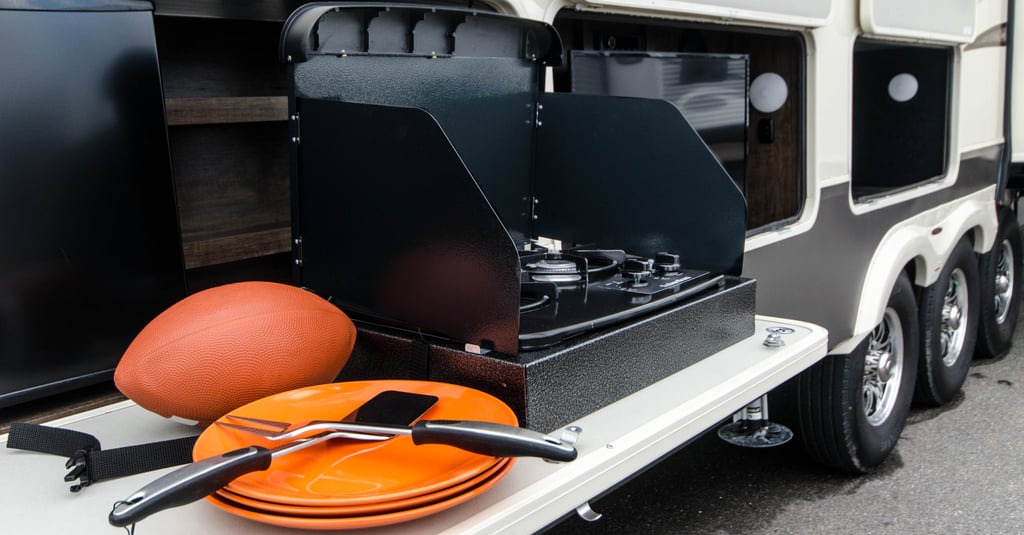 Many RVers want to be outdoors as much as possible. If you are one of them, check out campers that feature exterior cooking spaces. These can range from simple grills to outdoor entertainment centers with grills, sinks, TVs and more.
Remember, these options are not available on all campers. Smaller RV types, like pop-ups, tend to be more basic, while larger travel trailers, fifth wheels and motorhomes can feature more deluxe amenities. However, with so many makes, models and floorplans available, these questions should help make shopping for your dream RV much easier.

Packing for an RV adventure? Download our free RV Kitchen and Cooking Checklist to make sure you have all the supplies you'll need for delicious campground meals!