Learn all about the Tiffin Wayfarer Class C motorhome and check out the long list of amenities this spacious camper has to offer. And take a video walkthrough tour above to see first hand it's high-level features such as the wind sensor awning, hydraulic leveling system and queen murphy bed.
What Makes Tiffin Motorhomes Different?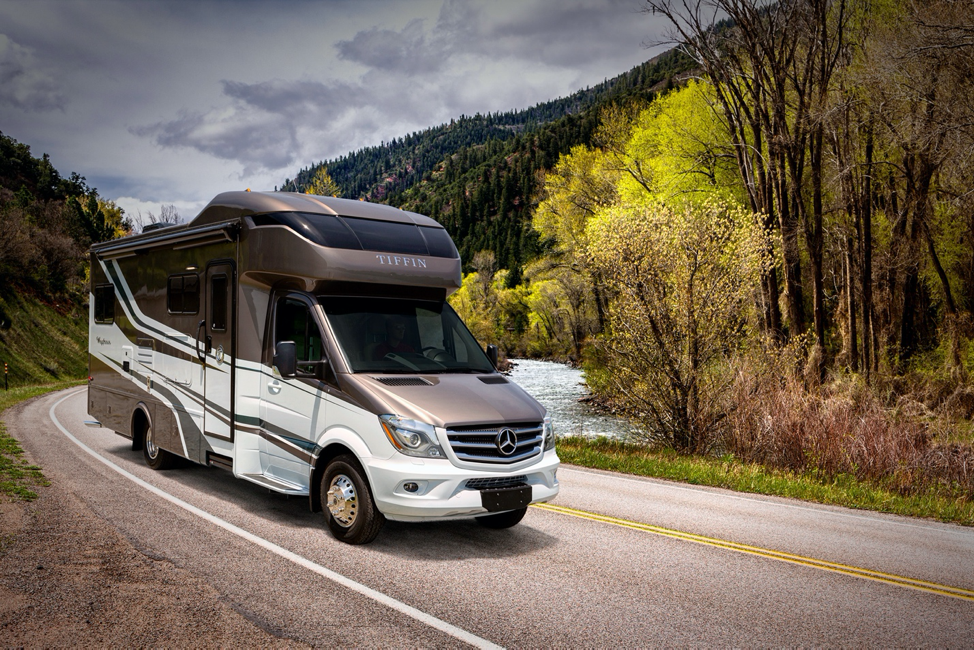 Tiffin Motorhomes has been family-owned since its founding in 1972 in Red Bay, Alabama. The Tiffin family has been building luxury Class A and Class C motorhomes for over 50 years and prides itself in building some of the most superior motorhomes in country. Tiffin is one of the largest RV manufacturers and has sold over 65,000 motorhomes to date.
Tiffin Wayfarer Exterior
The Wayfarer's exterior is coated in full-body BASF paint, which is what helps keep Tiffin's looking new for years to come. This Class C comes with Michelin tires, wind sensor awning and is built on a Mercedes Benz chassis to help ensure a comfortable ride.
Remote controlled electric mirrors help defog as well as an extra safety precaution. The Wayfarer includes an outside entertainment system that easily tucks away with lots of exterior storage, offering plenty of storage space for RV adventures of all types.
Tiffin Wayfarer Driving Features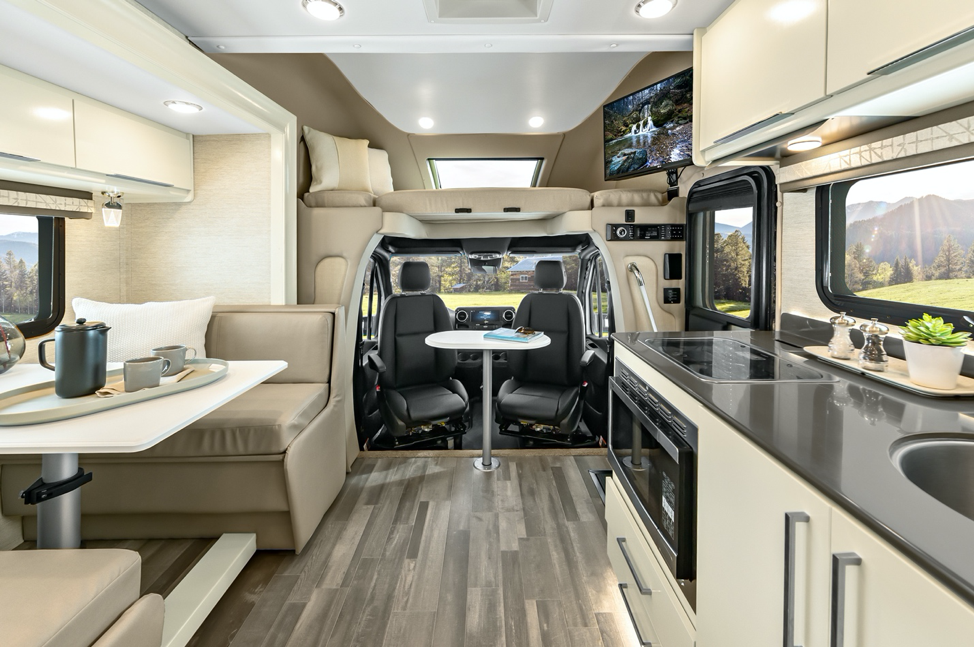 Tiffin prides itself in including top safety features such as collision avoidance, back-up monitor, and a GPS system. The Wayfarer also has adaptive cruise control, keyless start along with a radio power switch that controls the house battery.
Tiffin Wayfarer Interior Features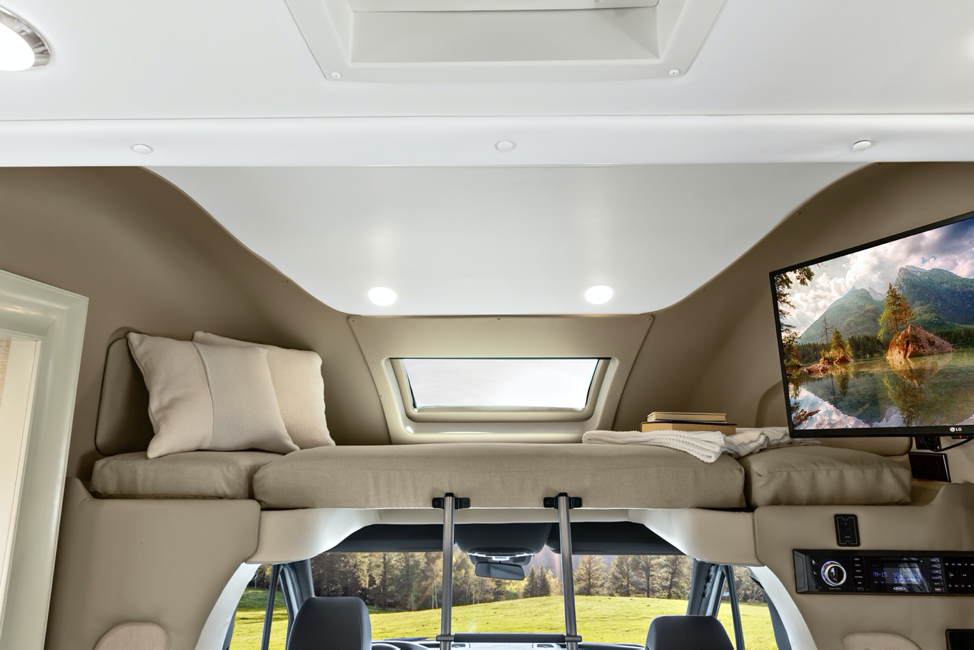 The Tiffin Wayfarer includes amenities to help optimize space at every turn. There is an over-cab-bunk for extra sleep space along with a skylight for additional light and airflow throughout the camper. Most of the Wayfarer floorplans can sleep up to six people, making it ideal for families ready to get away from it all.
Inside the kitchen, RVers can expect Corian countertops, an electric dual burner and a gas cooktop to help prepare favorite dishes no matter where they set up camp. A convection microwave oven, pull-out pantry and a 6-cubic-foot refrigerator to help make the Wayfarer kitchen full-service.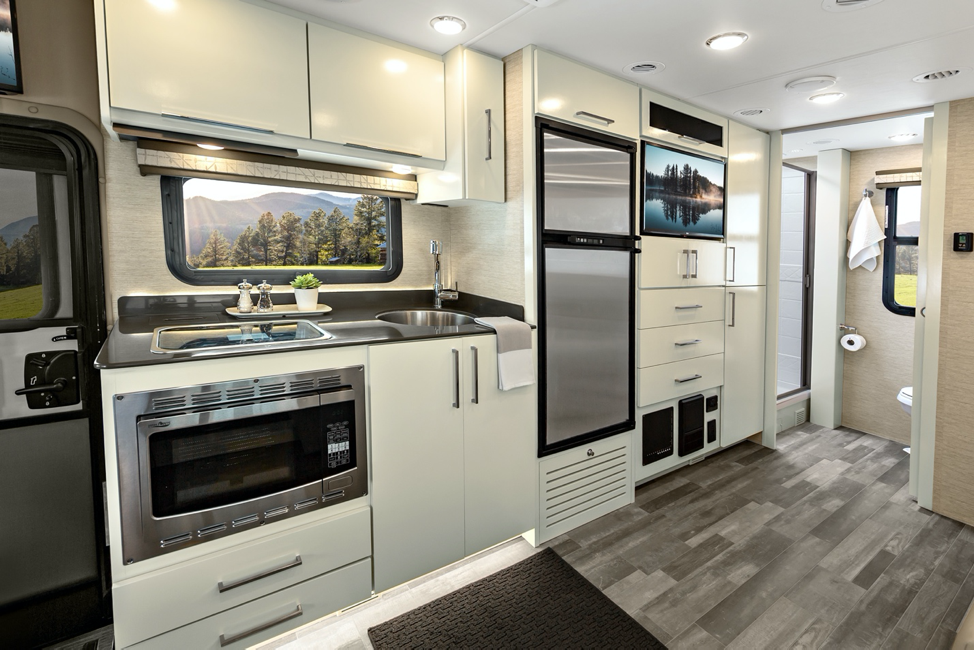 The living room has theater seating. There is plenty of storage and blackout shades throughout the inside to keep the RV cool. In the rear, RVer's will find a master bedroom that includes a queen murphy bed, along with a bathroom that has a standing shower, toilet and a single vanity.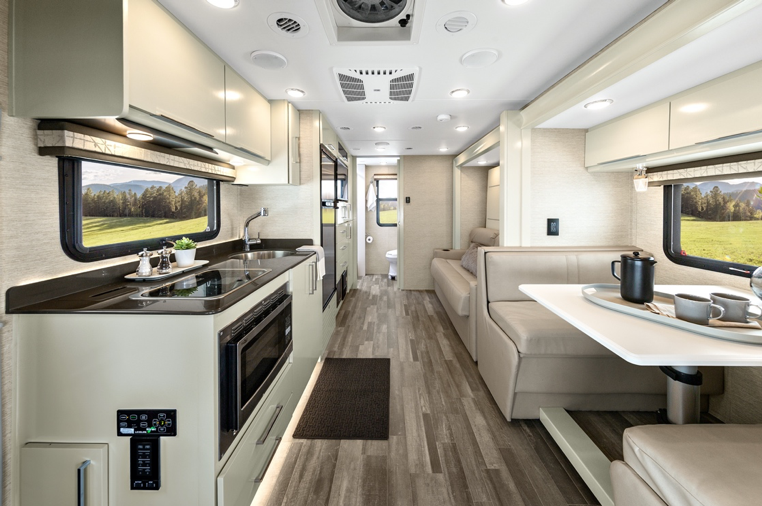 Tiffin Wayfarer Technology Features
Tiffin Motorhomes packs its products with plenty of technology to help RVers live comfortably and with ease on the road. The Wayfarer is no different and comes with an interior living room television, stereo system and Bluetooth capabilities.
The Wayfarer also has a hydraulic leveling system and a multiplex panel where you can control such items as cabin temperature or check tank levels.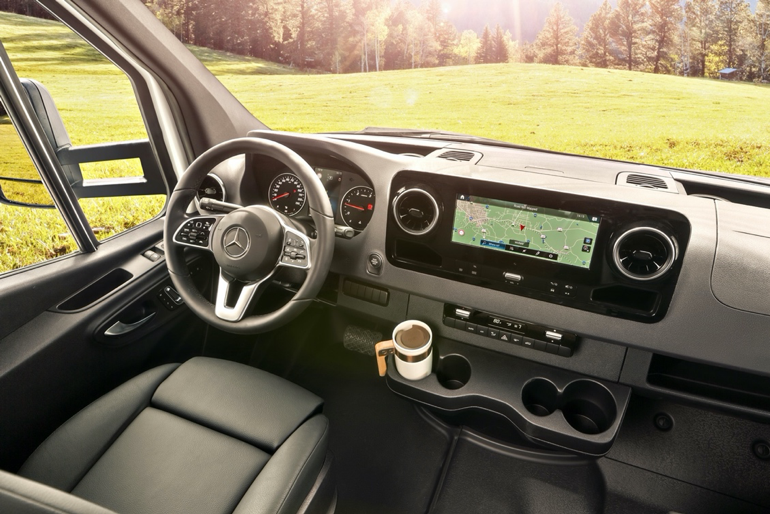 Tiffin Wayfarer Floorplans and Prices
Campers Inn RV offers Tiffin Wayfarer Class C motorhomes at multiple locations across the country. If you are interested in a specific floorplan, please reach out to one of our locations near you or check out our website to learn more.
Tiffin Motorhomes Wayfarer 24TW
Starting at $145,800
The Tiffin Wayfarer 24TW is over 25-feet-long, with a spacious interior height of 6' 8". It has two twin beds that can be converted to a king-sized bed depending on the family sleeping needs. Plus, with the over-cabin bed, families can sleep up to five people in this floorplan.
The 24TW is mealtime ready, with an LP cooktop, convection microwave and a two door 5-cubic-foot refrigerator. The living area is ideal for entertaining with a stereo system, television and premium fabric throughout the camper.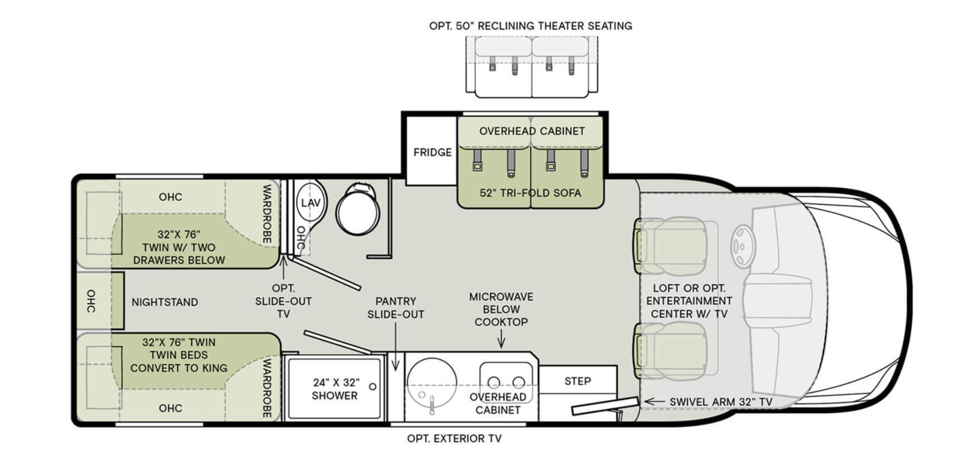 Tiffin Motorhomes Wayfarer 25RW
Starting at $150,289
The Tiffin Wayfarer 25RW is perfect for either a quick weekend getaway or a long road trip. The 25RW sleeps up to six people and offers a larger shower and bathroom than other Wayfarer models.
This floorplan comes with tons of options so you can pick and choose what is right for your family. If you need more space for guests to sleep, you can add tri-fold sofas with a hide-a-bed.
Want to go solar? Tiffin offers an optional add-on with a complete solar system and 170-watt solar panel.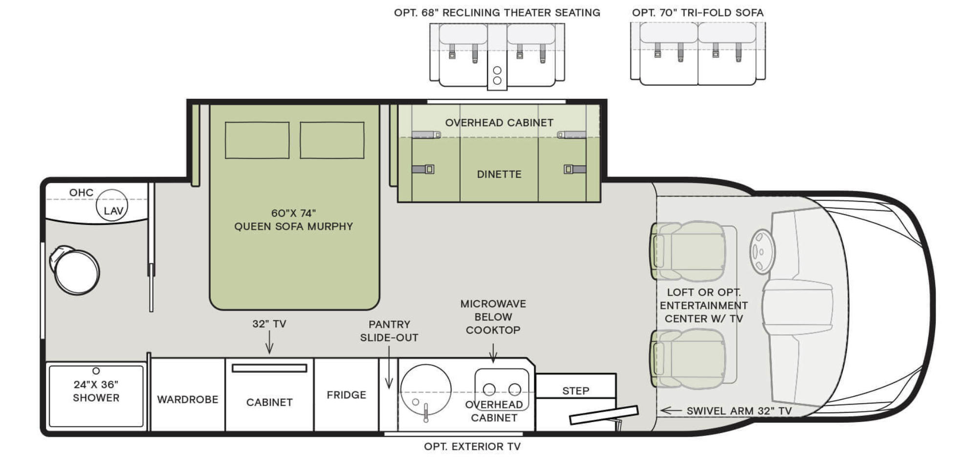 Tiffin Motorhomes Wayfarer 25 QW
Starting at $155,993
The Tiffin Wayfarer 25QW sleeps six people in its open and organized interior with a queen murphy bed and a loft above the cockpit.
In the living area there is a dinette, along with a TV for on the road or at the campsite entertainment.
In the kitchen, you can expect a two door 6.5-cubic-foot refrigerator along with a convection microwave and LP cooktop to make meals on the road. The cooking area is well lit featuring both over the counter and under-the-counter lighting.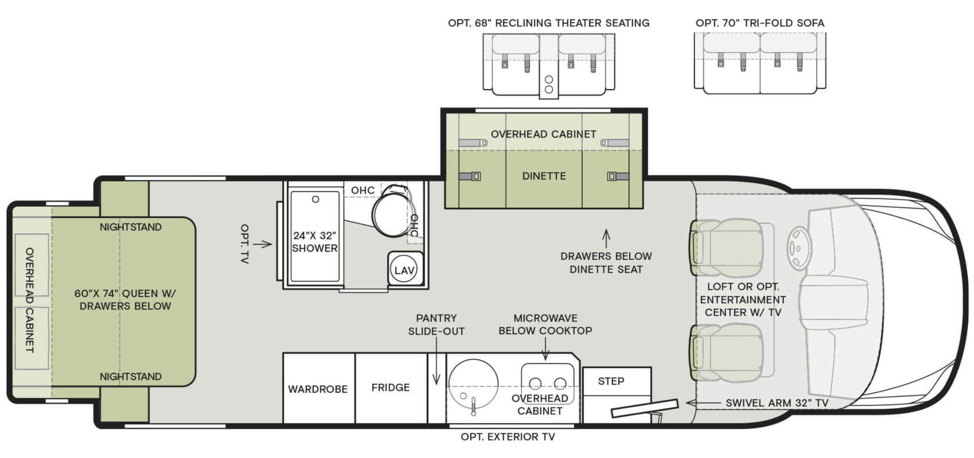 The Tiffin Wayfarer Class C motorhome has a lot to offer. If you are interested in learning more, check out the manufacturer website or reach out to one of our friendly and knowledgeable matchmakers!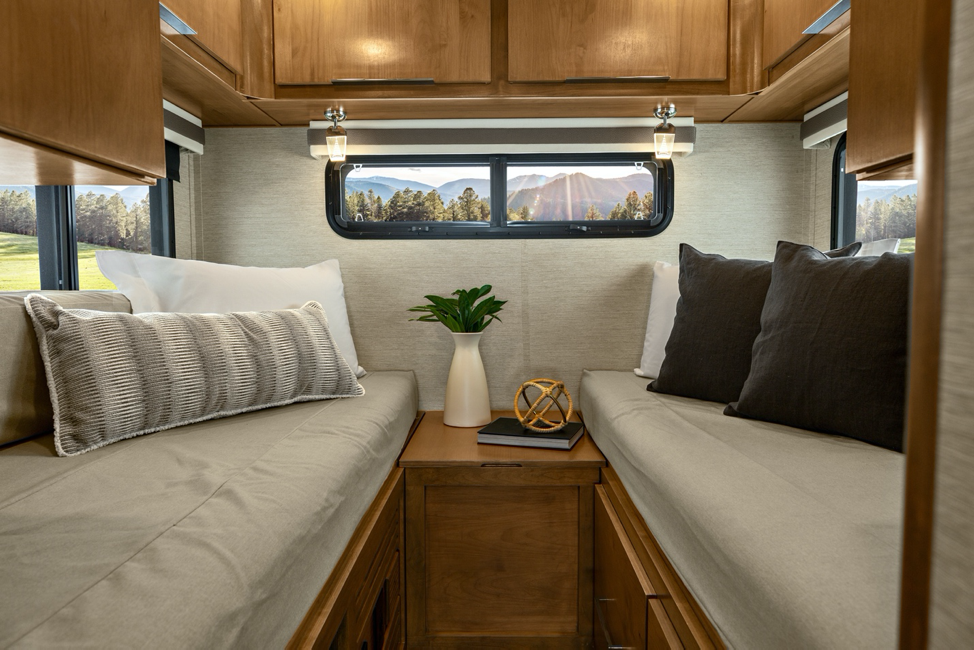 More RV Resources:
Interested in a Class C motorhome but considering something larger? Check out the Tiffin Phaeton in this virtual tour!
Considering selling your RV but wondering how? Step one is determining what your pre-owned RV is worth.