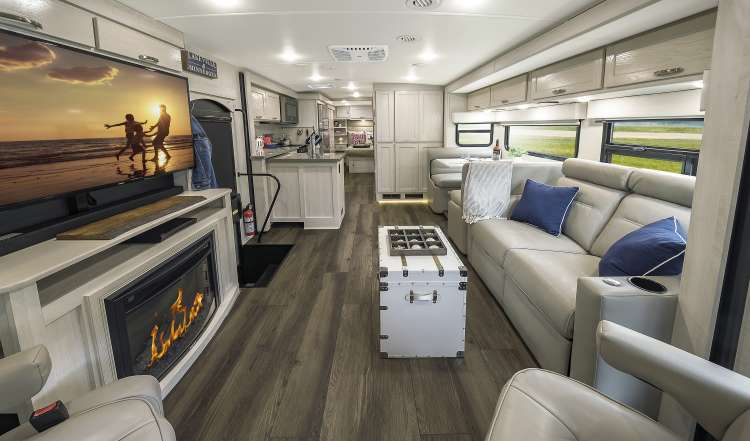 When choosing a motorhome there are quite a few things to consider and Class A motorhomes have a lot of advantages for RVers who want to travel in comfort and style for long-term stays.
Class A motorhomes are great for those who RV full-time or frequently participate in cross-country trips. These motorhomes have the accommodations of a home while being on the road. On average, a Class A motorhome is usually between 30- to 45-feet-long and resemble large buses. These RVs can be either gas or diesel and starting weight is well over 10,000 pounds.
Most Class As have a master bedroom, kitchen, bathrooms and a full living room. Starting cost for this type of motorhome is around $100,000, but you can find models that are in the millions.
Luxury Class A motorhomes generally come with the latest in safety features, higher quality construction, state-of-the-art driving technology, as well as added residential touches such heated porcelain tile floors, automatic leveling, hardwood cabinetry and plush seating.
Winnebago Horizon
Starting MSRP: $434,968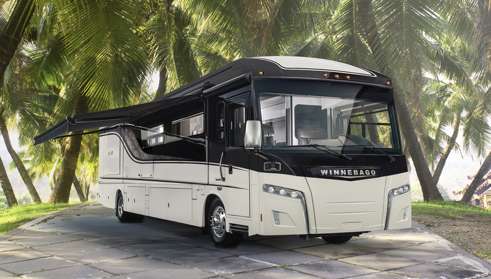 Winnebago Industries began over 50 years ago and at the time was founded as primarily a travel trailer manufacturer. Ten years after their launch, they began making luxury motorhomes, which quickly elevated Winnebago as a pop culture icon. Even today, Winnebago is one of the best-known names in the industry and is widely recognized by multiple generations.
One of Winnebago's newest Class As, the Horizon, comes in two floorplans and focuses on a clean and modern design. The Horizon 40A has an open floorplan that combines kitchen, dining and entertainment space so you can enjoy being with your guests or significant other at any time. This floorplan has a rear bedroom and LED tube lighting throughout to accent the luxurious furnishings.
The Horizon 42Q floorplan is split with a half guest bath midway through the unit, separating the lounge area and the private master suite. This floorplan comes with a 50" HDTV, porcelain tile floors and a Blu-ray home theater system.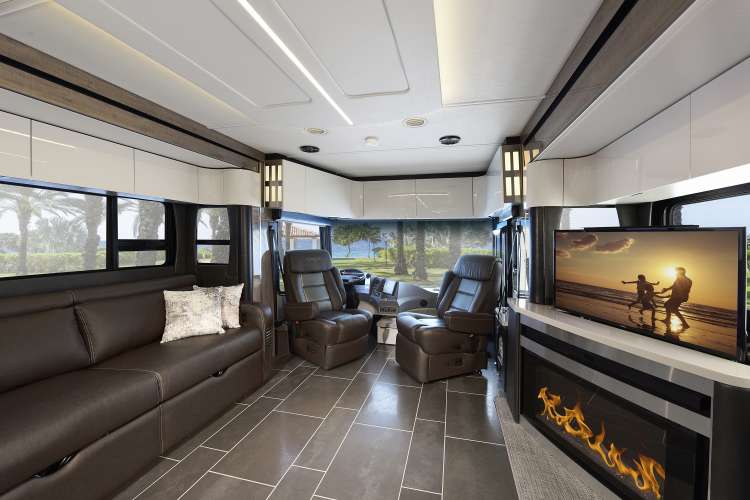 The Horizon is a diesel pusher and ranges between 41- to 43-feet in length. There are eight full-body paint options and the price starts at $434,968. This Winnebago also has three cooling units, a multizone thermostat and a powered queen-sized bed.
To see if Campers Inn RV carries the Winnebago Horizon near you, check out our website.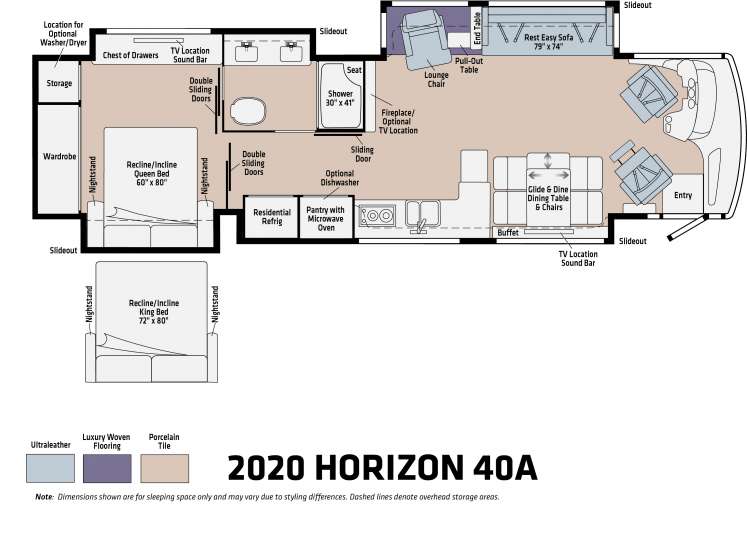 Winnebago Forza
Starting MSRP: $257,901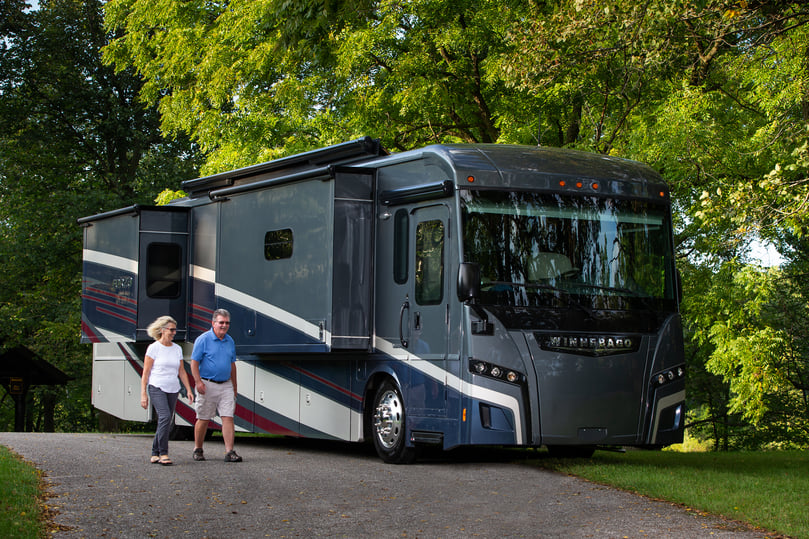 The Winnebago Forza offers five expansive floorplans to satisfy the lifestyles of most campers. The Forza is a diesel "pusher" Class A featuring added touches such as luxury wood plank flooring, Primera upholstered furnishing and a residential refrigerator.
The Forza ranges between 35- and 40-feet-long with up to 228-cubic-feet of exterior storage. Still focused on clean and modern design, this brand takes on more of the popular farmhouse look that has become popular over the past few years.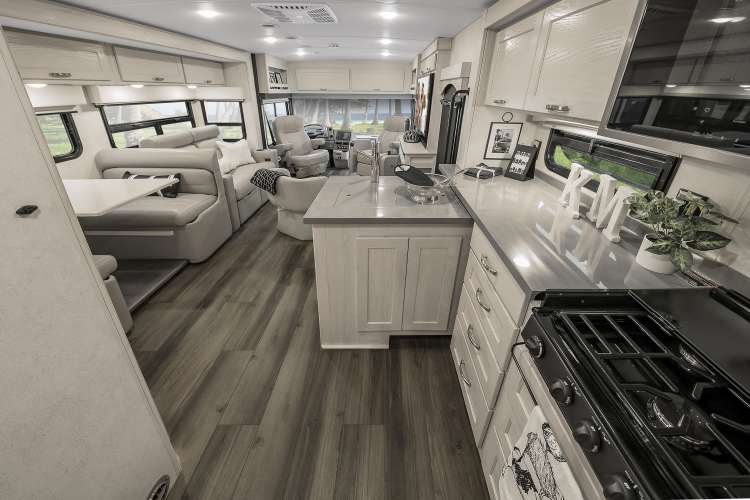 Exterior features has electric awnings with LED lights and Pet Pal leash tie downs for your furry friends, so you can enjoy your outdoor living space to its full capabilities. It sleeps six to eight people depending on the model chosen - as an optional studio loft bed is available over the cockpit.
The Winnebago Forza is available at multiple Campers Inn RV locations. Start shopping for your perfect model here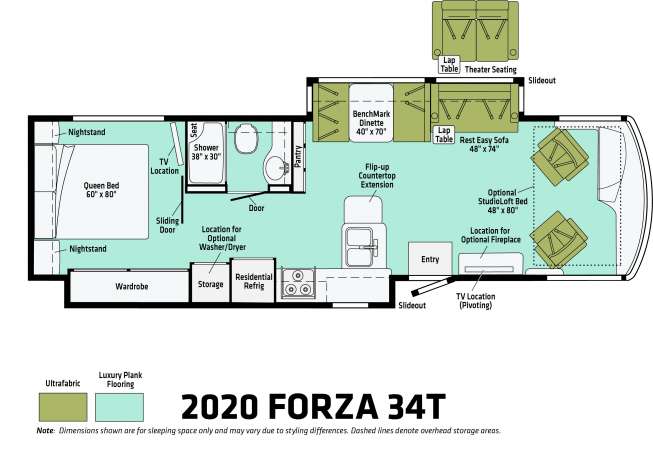 Tiffin Phaeton
Starting at: $339,068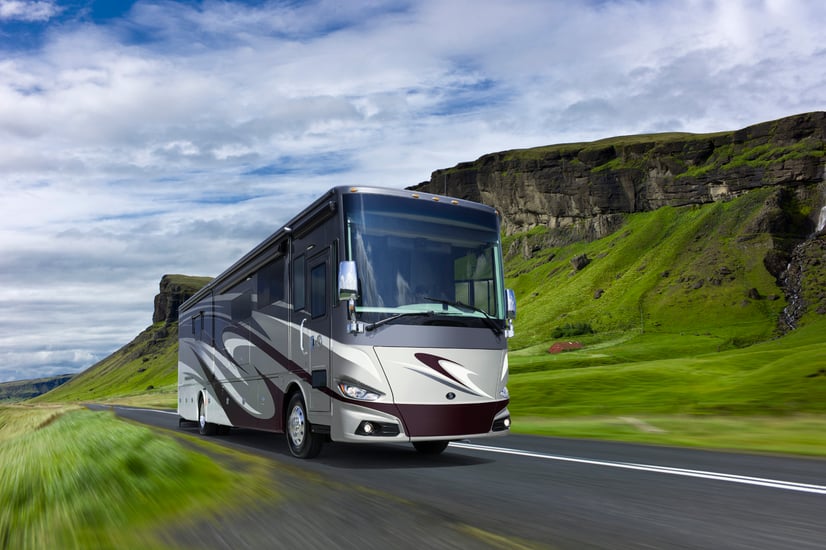 Tiffin Motorhomes is one of the few family-owned RV manufacturers left in the industry. In 1972, the Tiffin family purchased a small RV manufacturing company and Tiffin Motorhomes was born.
Recently, the company has grown from just Class A motorhome offerings to include a luxury fifth wheel line and an expanded Class C motorhome line.
The Tiffin Phaeton has been one of the manufacturer's top sellers for more than a decade. The Phaeton is a diesel pusher, Class A motorhome with three slides, though some models offer four.
The brand has six floorplan options, three décor packages, two floor tile options and seven full-body paint options, so you can personalize the Phaeton to their style and needs. The Phaeton offers floorplans that sleep between five and nine people. This model ranges between 38- and 45-feet-long.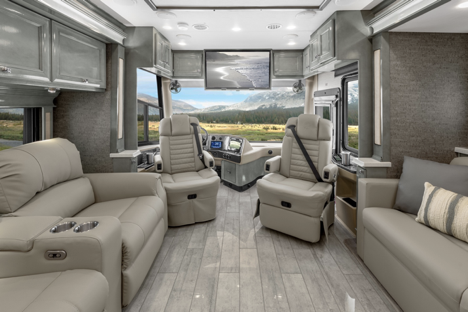 This luxury motorhome includes an expand-an-island, panoramic galley window, residential refrigerator, solar and privacy shades and a home theater system. With two ducted furnaces, extraordinaire AC system and a smoke detector you and your family will be safe and comfortable on every type of adventure.
We carry the Tiffin Phaeton at many of our Campers Inn locations. Check our website to see if we have them in stock near you.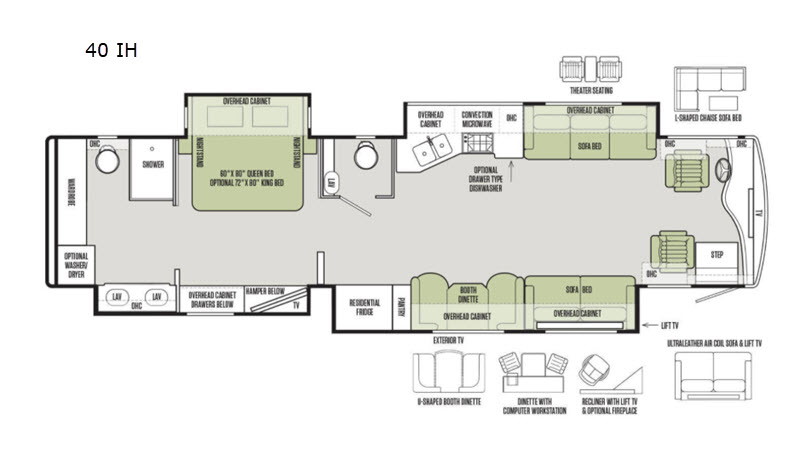 Newmar Ventana
Starting MSRP: $299,599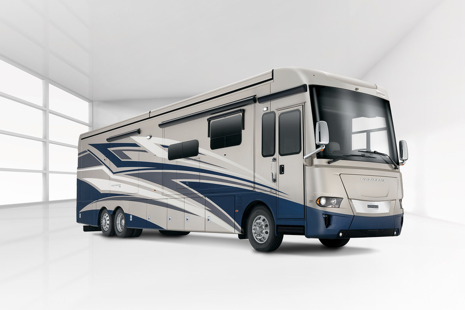 Newmar Corporation has been building RVs for over half a century. And this manufacturer has a big focus on innovation. For over three years, Newmar was the only manufacturer that offered slideouts for Class A motor coaches. In 2012, Newmar decided to exclusively build class A motorhomes. To this day, Newmar constantly strives for innovation with best in class design for slideouts, exterior paint and driver technology.
The Newmar Ventana is a diesel Class A motorhome. The Ventana has 13 floorplans to choose from along with three different exterior finishes, three interior décor palettes and four wood cabinetry options. This brand ranges from 34- to 43-feet-long and has a keyless entry door.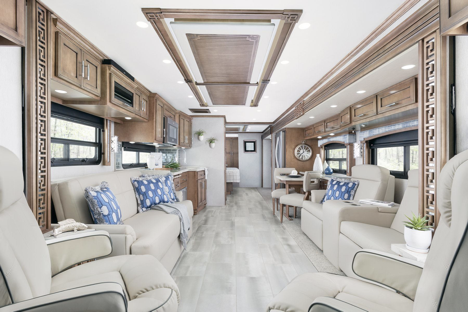 The Ventana starts at $299,599 and offers wheelchair accessible floorplans, Samsung LED 4K television and soft close drawers. This model sleeps four to six people and has either three or four slide outs depending on the model you choose.
Want to check out a Newmar Ventana in person? See if we carry them at a Campers Inn RV location near you!

Luxury Class A motorhomes makes camping enjoyable for those who like comfort and style on the road. These motorhomes are the closest thing to a home away from home and make long-term traveling easy.
Want to get started on your journey? See all of the Class As that Campers Inn RV offers here.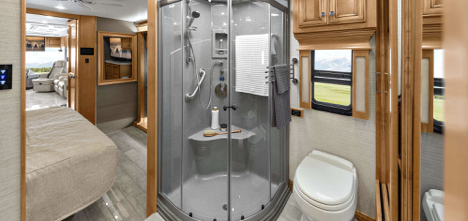 For more RV resources:
Wanting to learn more about Winnebago? Our blog post "All About Winnebago RVs" can help you out with their history, and many of the brands of motorhomes they offer.
Considering hitting the road to see fall and its many colors? Our guide can help find the "Top Places to RV this Fall".