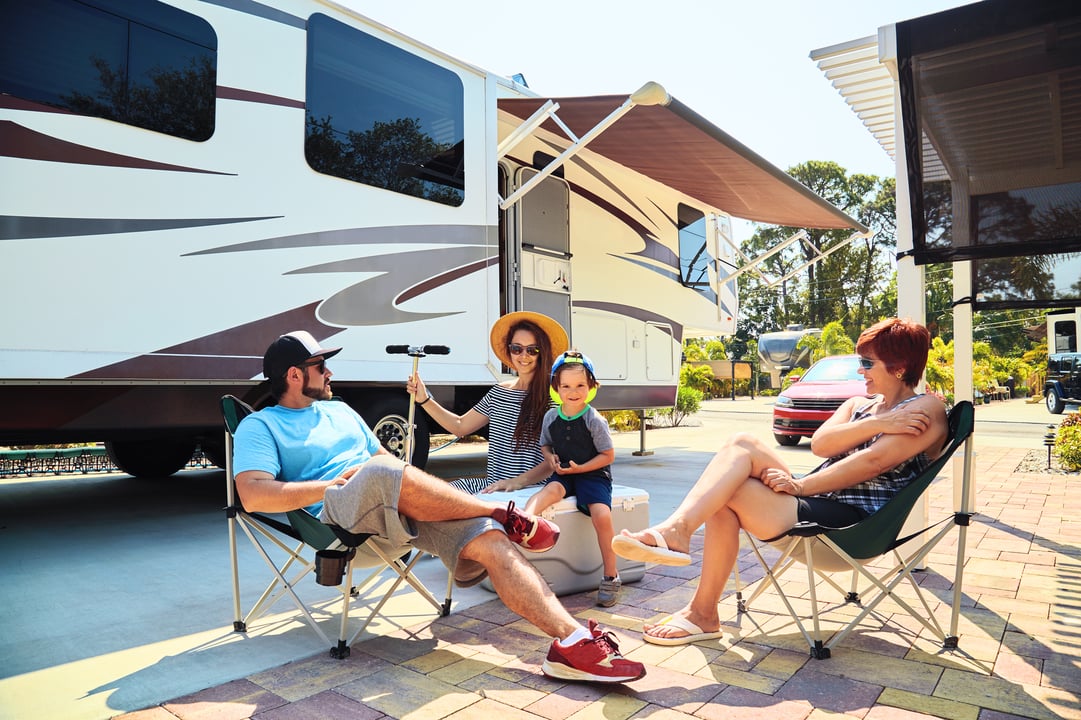 Fifth wheel RVs are very large towables that offer a lot of extra space because of their higher interior ceilings and split-level designs. Fifth Wheels are great for large families or couples who like to camp longer than an extended weekend. These RVs are truly a home away from home with residential size refrigerators, full cook top stoves, island counter tops and spacious living areas.
The pros of fifth wheels are that these towables tend to be more stable while on the road because the tow hookup is centered between the axles on the truck. And because of their their multi-level floorplans, these towables offer more exterior storage. The con of this large RVs is it does take a large truck to haul them. If you don't have the horsepower to tow a fifth wheel, you might want to check out some great travel trailer toy haulers options, so you don't have to upgrade your tow vehicle.
What is a Toy Hauler?
A toy hauler is an RV with added garage space. The garage space is perfect for holding gear for your favorite outdoor hobbies. Toy haulers can carry mountain bikes, kayaks, canoes and even bigger machines like four-wheelers or jet skis. Not only do they have the garage storage space, but they also have a ramp, so you can easily drive or carry up your gear. Many toy hauler models feature fold-down beds in the storage area and options to turn the ramp into a porch when set up for camp. They are the ideal RVs for campers who love to be outside and prefer to bring along their own toys. All your accessories for your outdoor activities can come along where ever your RV can go.
We round up a few options of fifth wheel toy haulers in this post to give you a better idea of what is available in these feature-packed RVs and help you find the right RV for your lifestyle and budget. Featuring various lengths, weight and budgets, you'll get a good idea of what is right for you before you start shopping.
Cruiser Stryker Toy Hauler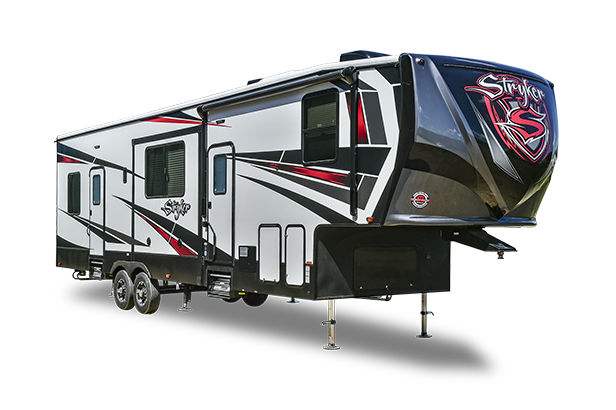 The fifth wheel toy hauler Cruiser Stryker has floorplan six options to choose from. The middle of the road option comes in at 38''7' in length and 13'3" in height with 13' garage storage space. Dry weight is 12,810 pounds with a maximum tow weight of 17,000, so it requires a big truck to pull this RV. The spacious Stryker has three slide-outs and it can sleep up to five or six people comfortably. The kitchen features a three burner cook top stove and the master bedroom has a queen bed. The Stryker has the option for folding rails on the rear ramp to create a patio when the ramp is not in use. The starting price for a Cruiser Stryker is around $84,471.

Jayco Seismic Toy Hauler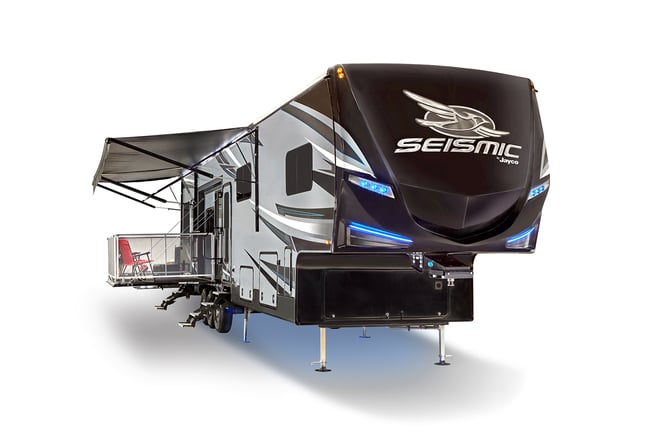 The Jayco Seismic fifth wheel toy hauler is every outdoor lover's dream. This RV features two patios, one on the side and one on the end, an exterior TV hookup and an outdoor shower. The starting cost for this RV is about $120,261. The Seismic is a huge RV and models begin at 45'7" in length with a 12'6" garage space. It has a lot of great features like a master bedroom with a queen bed, one and a half bathrooms, kitchen, living room and another queen bed with rear convertible sofas. Another favorite feature is the Keyed Alike (one key for all doors and storage).

Keystone RV Carbon Toy Hauler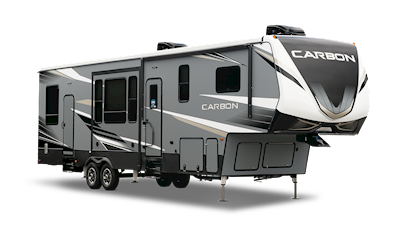 The Keystone Carbon fifth wheel toy hauler starts at 38'2" long and 13'2" tall with a 12'6" garage space for your outdoor gear and will cost you around $87,769. This RV sleeps up to six people and has a bunkhouse. The ramp can also be used as a patio when not in use and has an awning and patio steps as well. The Carbon luxury features include USB outlets in the sofa slide-outs as an easy and convenient charging station. This RV also has washer/dryer prep which is perfect for those longer camping trips.

Heartland Road Warrior Toy Hauler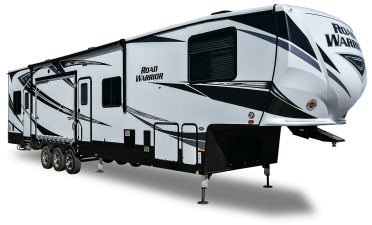 The Heartland Road Warrior starting cost is about $91,712. Its dry weight is 14,412 pounds with a total towing weight of 17,000. It comes in at 42' in length and 12'3" in height. This RV can sleep five to six people and has many additional options to fit your needs and lifestyle, including pass-through storage, ramp patio, and a heated and enclosed underbelly. Optional features to make your RV unique include rear electric patio awning, folding sofas and queen bed in garage space, king-sized bed and a 40" garage LED TV on pull down/swivel bracket.

Learning about these four great fifth wheel toy haulers is just a starting point. Now that you know the different options, sizes and costs, you can begin a deeper search to find the perfect RV for you. If you already have a good idea of what you're looking for, start shopping now. If you still have some questions, check out our buyer's guide for first-time RVers.